ENTERTAINMENT
Meera Sivaramakrishnan and Usha Rajagopal displayed their distinct playing technique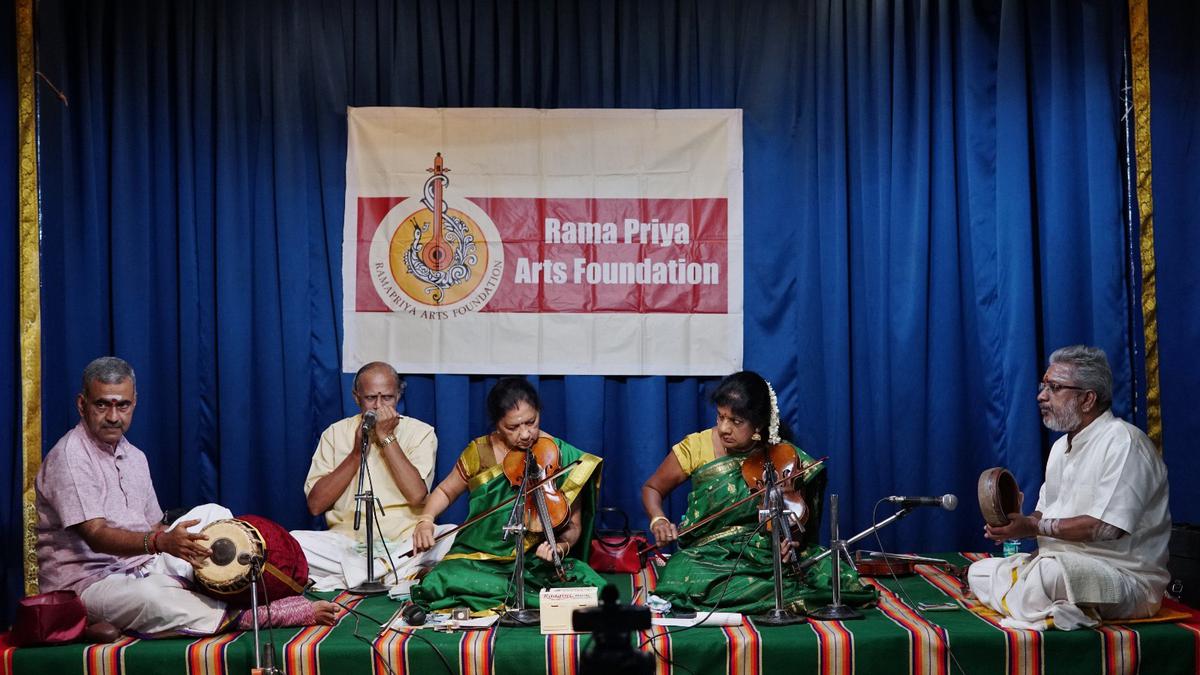 Senior violinists Meera Sivaramakrishnan and Usha Rajagopal came together to present an appealing duet. This was the first concert in a three-day series, held by Ramapriya Arts Foundation at Ragasudha Hall recently. The programme was organised as a part of SAFE Ramabhadran Memorial concert series.
Ramapriya Arts Foundation was founded in 2018 by Varalakshmi Anandkumar and Durgga Venkatesh with an aim to take music to a wider audience.
As for the day's concert, Meera and Usha, groomed by different gurus, offered variety by seamlessly blending their styles while presenting kritis.
Two hours of classicism engulfed the listeners. Their rigorous musical training and years of experience as accompanying artistes on stage and at All India Radio came through in their performance.
This amalgamation of ideas resulted in an interesting presentation of compositions, raga articulations and swara renditions. Their distinct playing made Kiravani suite and Suddha Saveri package stood out.
The percussion support was from Neyveli Ramkumar (mridangam), Papanasam Sethuraman (kanjira) and A.S. Krishnan (morsing).
Beginning on a sedate note with a Kamboji varnam, the violinists launched a racy varnam, set in the second speed, and bhava-laden phrases.
G.N. Balasubramaniam's composition 'Karimukha varadha' (Nattai) set the tone for a brisk concert with the duo alternating during the kalpanaswara section. This song bore GNB's stamp . The kriti speaks of Ganesha, who destroys sorrow and fear.
A brisk Tyagaraja Pancharatnam, 'Endaro Mahanubhavulu' (Sri raga) followed further heightening the emotive appeal of the kriti. .
The duo then anchored the concert on a slow-paced Tyagaraja kriti, 'Bagayya nayya' (Chandrajyoti). Two major presentations followed — Usha's nuanced Kiravani raga alapana for 'Samagana priyakaram' ( composition of Guru Surajananda) and Meera's neat Suddhasaveri raga exploration preceding Tyagaraja's 'Darini telusukonti' . During both these presentations, the violinist scored with their colourful swara suites ending with with complex korvais .
The tani avartanam segment was interesting as the three percussionists played creative rhythmic variations.
Meera and Usha ended the concert with tukkadas: 'Aarumo aaval' and a thillana.