ENTERTAINMENT
An Odissi festival that showcased the changes the dance form is undergoing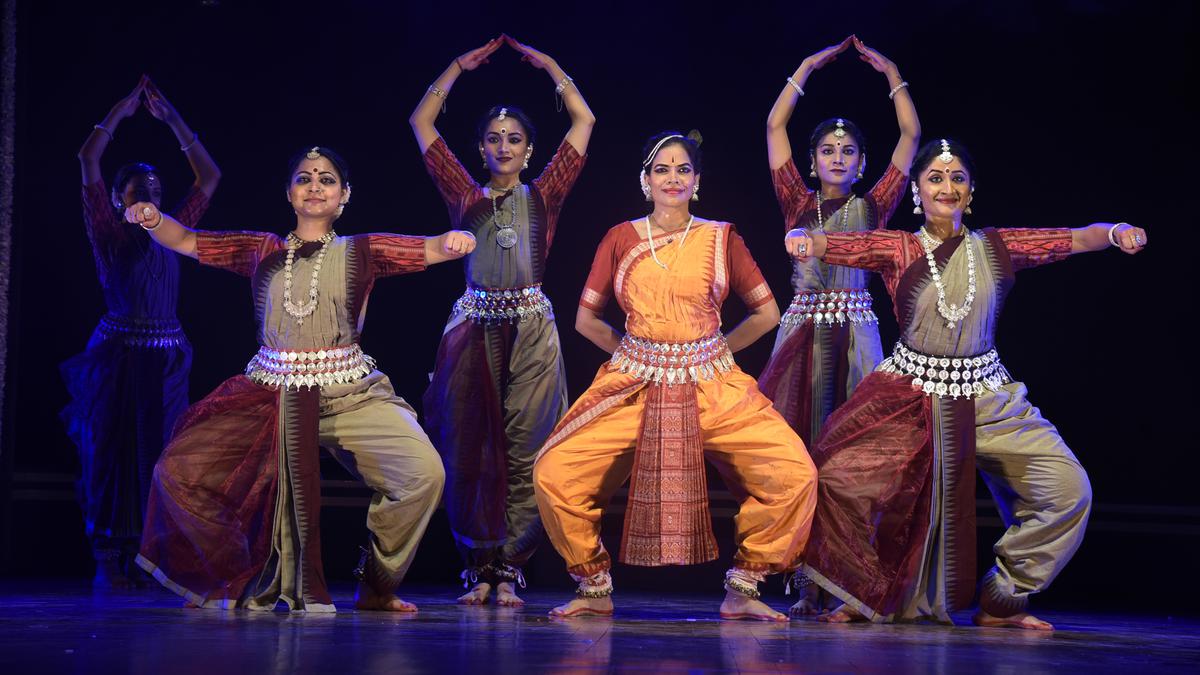 "My approach to group choreography involves creating a work that is both innovative and meaningful with contemporary interpretations and relatable themes, fostering a deep appreciation for Odissi's pure style while making it accessible and compelling to a wider spectrum of audience," says Madhulita Mohapatra. Her Nrityantar ensemble premiered 'Colours of Krishna' at the 12th edition of 'Naman', a festival Odissi held at ADA Rangmandira in Bengaluru. 
Well-rehearsed and coordinated, the production with more than ten dancers, presented the essence of Krishna as a child, lover, friend and the supreme. Emotion and lyricism dominated the Krishna- Radha episode portrayed by Madhulita and Paridhi Joshi. In the Ashtapadi lines 'Dehi pada Ppallavamudaram' Krishna beseeches Radha to place her reddish feet on his head like a floral adornment. "We didn't aim to merely reinterpret the life of Krishna, we wanted to present his timeless wisdom and charm through the beauty and elegance of Odissi," says Madhulita. 
Today we see a vibrant Odissi scene with commendable works by talented choreographers, gurus and artistes. This evolution has brought about a fresh perspective, pushing the boundaries of classical Odissi dance. 
Young Preetisha Mohapatra carries the rich legacy of her grandfather Kelucharan Mohapatra. She performed the Chandrakauns Pallavi choreographed by father Ratikant Mohapatra that gave primacy to the varied rhythmic sequence of Panchamsavari. The grace and perfection in her stances and movements and verve with which she executed the cadences were a sheer delight to watch. Preetisha proved her abhinaya prowess in the sancharis for Tulsidas's 'Sriramchandra Kripalu', particularly in the Swayamvar episode and the Rama-Ravana battle scenes.  "The audiences have evolved. Their aesthetic expectations are not the same anymore," says Preetisha.  "The Odissi scene is quite dynamic at present. Traditional themes and ideas are being given a new treatment to cater to changing aesthetics and modern audiences. However, to be a soloist is greatly challenging."
The dancers of Nrityagram performed the Sankarabharanam Pallavi choreographed by guru Pankajcharan Das. Pavithra Reddy, senior dancer of Nrityagram, performed the popular Ashtapadi, 'Yahi madhava'. 'Namaskriti' elucidated the story of Ganesha.
Surupa Sen, artistic director of Nrityagram and a formidable performer in her own right, introspecting on the contribution and core values of the famed dance institution says, "Our work has been instrumental in creating a new genre of group choreography that has been quite distinct from what used to be the dance drama tradition. The understanding of line and form and our restructuring of traditional work with a more modern sensibility and emphatic production values has given impetus to a new approach that has inspired many Indian classical dance practitioners across all dance styles.
She feels artistes today are trying to find their own voices and own their dances more, and are artistically able to express themselves independently from what has been handed down to them. "Artistically what matters to me is to be able to transmit to the next generation the essence of the dance form and what aspects of it should remain constant."