ENTERTAINMENT
Bhavna Iyer's rendition stayed true to her guru's style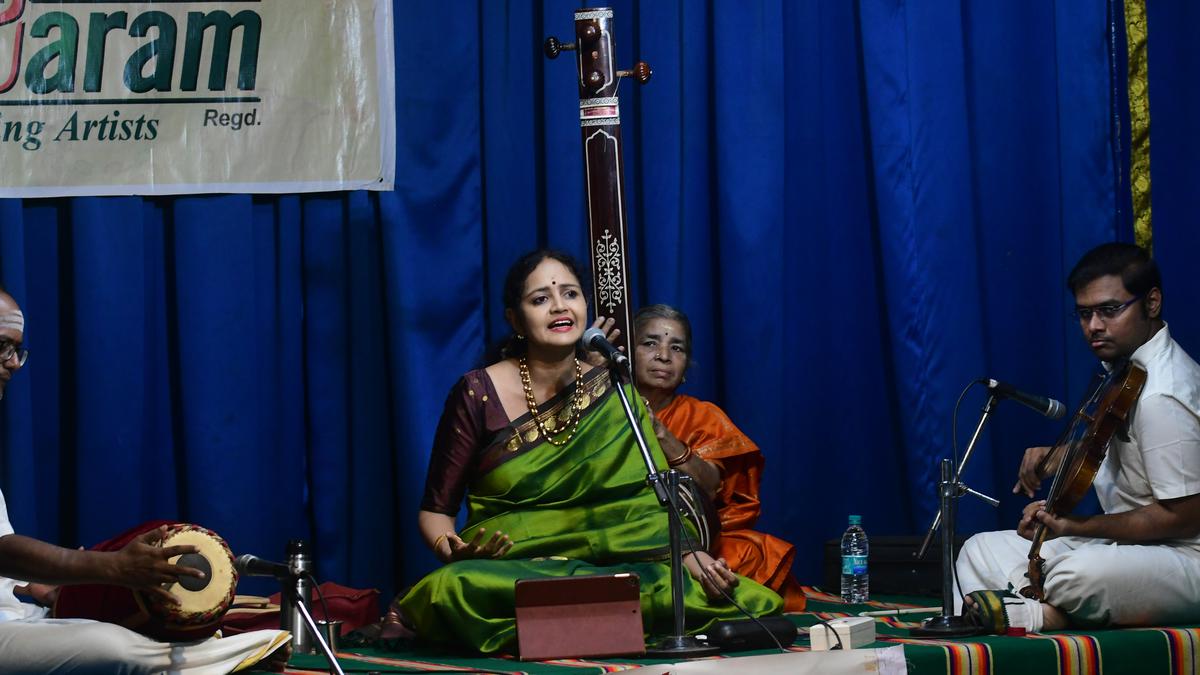 Bhavna Iyer's concert, as part of Kedaram's eighth anniversary music festival, had an unmistakable aesthetic flair. Her Bhairavi raga alapana stood out for its overwhelming passages. Bhavna's voice aided her in traversing all three octaves with effortless ease. She handled Dikshitar's masterpiece 'Balagopala palayasumam' in chowka kalapramana with elan. The niraval and swaras were at the charanam line 'Maanikya makuta haara valaya dhara'. On the violin, M. Vijay rose to the occasion and gave a splendid response during the alapana, niraval and swaras segments.
The tani by B. Ganapathiraman (on the mridangam) was enjoyable as the accompanist played quite a few sparkling phrases in tisra nadai.
Bhavna's music reflected the style of the legendary Semmangudi Srinivasa Iyer. She imbibed the style from her gurus — V. Subramaniam, one of the foremost disciples of the doyen, under whom Bhavna had her initial training; and G. Seethalakshmi, another disciple of the maestro, under whom she is learning now.
Another raga that Bhavna took up for exhaustive treatment was Varali. The alapana had delicate phrasings and Bhavna's rendition of Syama Sastri's 'Bangaru kamakshi' (Misra Chapu), with its chittaswara and swara-sahitya segments, stood out for its subtle nuances. Niraval and swaras were at the anupallavi line 'Thamadhamele rave'.
Bhavna commenced the concert with Kotthavasal Venkatarama Iyer's evergreen Saveri varnam, 'Sarasuda'. This was followed by Tyagaraja's 'Mummoorthulu gumigudi' (Atana) with kalpanaswaras at the pallavi. Another Tyagaraja kriti that she rendered was 'Ni bhakti bhagya sudha' (Rupakam), with swaras at the pallavi again. In this kriti, the composer focusses on the purpose of life – to swim in the ocean of nectar, of devotion, of the Lord.
Bhavna brought out an attractive sketch of raga Vasantha, followed by an equally charming exposition by Vijay. 'Sri kamakshi katakshi' by Tiruvarur Ramaswamy Pillai was the chosen Tamil composition, which has thechittaswaram and swarasahityam segments with generous swarakshara prayogas. This song is ascribed to Subbaraya Sastri by some. Patnam Subramania Iyer's 'Iti nyayama' in raga Malavi was another charming rendition.
Bhavna Iyer wound up her concert with a shlokam from Narayaneeyam, 'Yogeendranam' in Ragamalika (Behag, Kapi, Sindhubhairavi and Tilang); Swati Tirunal's kriti 'Krishna chandra radha mohana' in Tilang; and the mangalam, again by Swati Tirunal, 'Bhujanga sayino nama mangalam', in Yadukula Kamboji.