SPORTS
Conference realignment: What's next for Pac-12, Big Ten, Big 12 and beyond?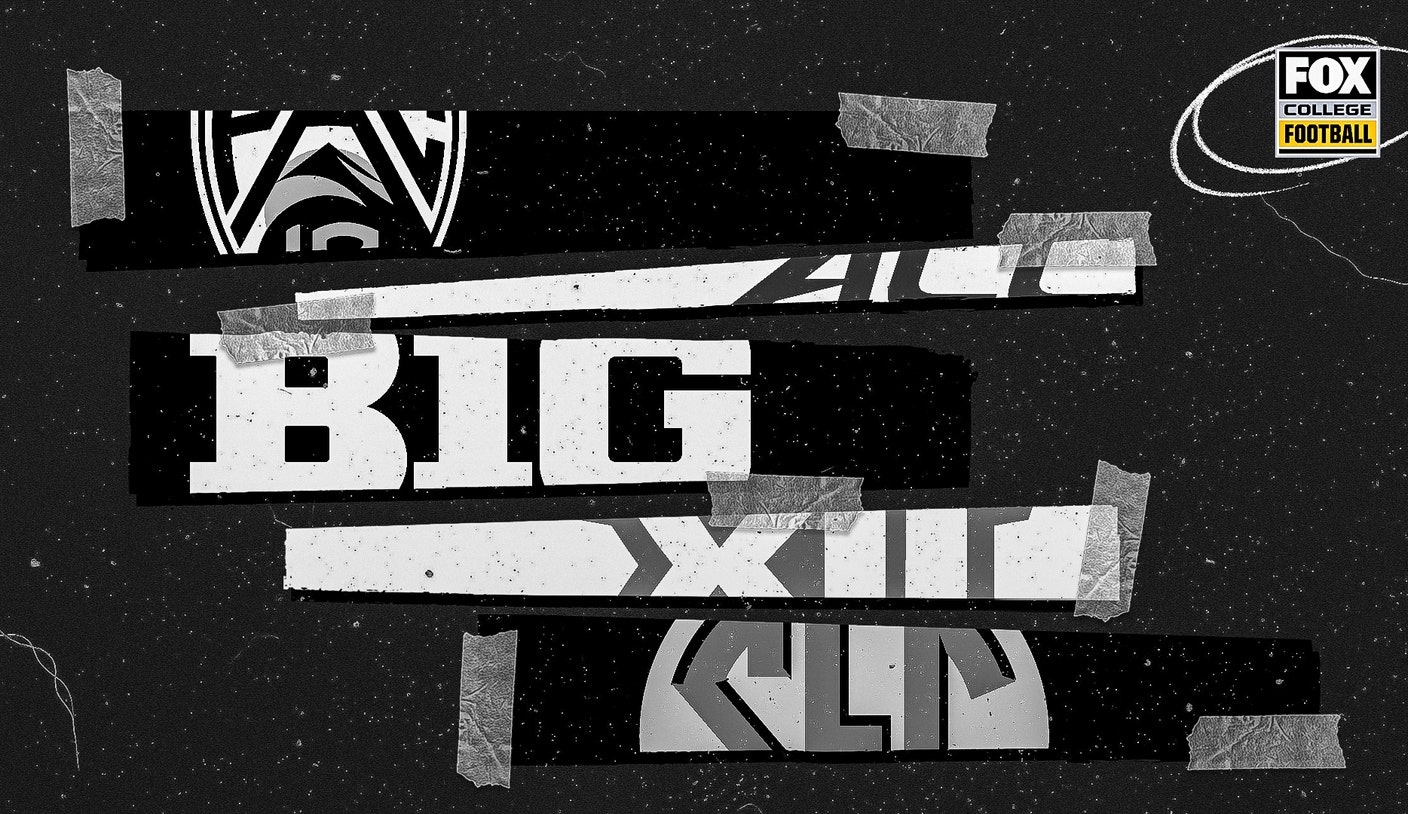 Bryan Fischer
College Football Writer
Three weeks out from the college football season, one would think it would be a somewhat quiet time for all involved. Fall camp is getting underway for most and, for a lucky few, those last-minute vacations can be taken just before the grind of the season commences across the country.
Well, think again.
Thanks to Friday's announcement that Oregon and Washington were officially moving to the Big Ten, along with the Big 12's additions of Arizona, Arizona State and Utah, conference realignment has once again thrown the sport into a bit of bedlam and reignited discussions that are bound to reverberate for many years to come.
[Big Ten adds Oregon, Washington; Big 12 nabs Arizona, ASU, Utah]
After all the seismic moves made this past week, there's just one question on the minds of everybody from school presidents to athletic directors to head coaches on down to the fans themselves: Where does the rest of college athletics go from here?
What's next for the Big Ten?
It speaks to the speed at which conference realignment has taken place that the "Flex Protect Plus Model" and 2024-2025 football schedules that the Big Ten released — just two months ago on June 8, mind you — is already out of date and has to be scrapped.
Once the pomp and circumstance of the moment has passed, with Tony Petitti's first signature moment as commissioner, the conference office will now begin the yeoman's work of trying to integrate not just USC and UCLA into the league but Oregon and Washington as well.
Months of meetings, proposals and dedicated effort have already been put in trying to figure out how the Los Angeles schools can get a volleyball team to Lincoln or a Maryland soccer team to Westwood, which will now have to be rejiggered to factor in teams coming and going from Eugene and Seattle.
And, unlike the nearly two years the league has had to prep for the official arrival of the Trojans and Bruins in August 2024, Big Ten leadership will have less than a year to get everything lined up.
As much focus as there will be on how the football schedules will shake out for next fall and when Ohio State and Oregon can play a conference game as the lead-in to Michigan at USC, there are real issues at play, too. The Big Ten sponsorship portfolio spans 28 sports and will soon include not just 18 football teams to coherently organize, but 18 women's soccer teams all around the country, too.
How do you determine a conference title with 11 men's soccer teams or 17 softball programs? The logistical and administrative challenges are headache-inducing already and will only become more so as details start to become finalized, and agreements will need to be mustered from 18 very different constituents.
In parallel to sorting that out, Petitti must also lead negotiations with the league's media partners to update and then finalize their existing agreements. Where does the new inventory go? From added football games in a potential 10:30 p.m. ET time slot to women's basketball running from noon until night in early spring, there are only so many TV broadcast windows and only so many streaming services to handle over 1,000 live events that will soon carry a B1G logo. Making sure that all rights partners, from FOX to CBS to NBC, are happy and stocked full of good games is a delicate balancing act that the veteran TV executive turned conference commissioner will now have to focus on.
What's Next for the Big 12?
Much like the Big Ten will be looking at how to administratively integrate new partners, the same can be said for the Big 12.
That is an endeavor that will take place over the coming months ahead, with the added benefit of already going through things with four new members coming into this season. Still, it's a lot of legwork to get on campus at places like Arizona, Arizona State, Colorado and Utah while checking off all the boxes needed. You'd be surprised at how long it might take to get a giant Big 12 logo made in school colors takes.
Commissioner Brett Yormark has consistently been aggressive in advocating for his league ever since taking over the top job in Dallas and seems to have positioned the Big 12 in a pretty impressive spot with 16 teams no matter what happens moving forward. For a league that was once on the brink several times in the past few years, that's quite a testament to how far things have come.
How does the ACC respond?
After the Big 12's expected moves, all eyes will turn toward the ACC.
Commissioner Jim Phillips, who is also dealing with lawsuits related to his tenure as Northwestern's athletic director, is already well aware of the tectonic plates of conference realignment shifting.
On Wednesday during a contentious Florida State Board of Trustees meeting, numerous school leaders expressed their displeasure with the state of the league and the widening resource gap between the Seminoles and some of their peers in the Big Ten and SEC.
"We, of course, are not satisfied with our current situation," FSU president Richard McCullough said during the meeting. "We love the ACC. We love our partners at ESPN. Our goal would be to continue to stay in the ACC, but staying in the ACC under the current situation is hard for us to figure out how we remain competitive unless there was a major change in the revenue distribution within the conference in the ACC conference itself.
"It's not a matter of if we leave, in my opinion," added trustee and former quarterback Drew Weatherford said. "It's a matter of how and when we leave. Not everyone may agree with that, but I feel really strongly about it."
The question left unanswered from that meeting — and from many of the numerous conversations going on around the league — is just what can be done with the ACC Grant of Rights that runs another 13 years. While Florida State or any school could leave the conference, their media rights (worth millions) would remain with the ACC until 2036. There has been speculation that this could be challenged or, similar to how Texas and Oklahoma departed the Big 12 for the SEC, negotiated down.
However, 13 years is a long time left on the clock, and litigation remains tricky for any university.
Back in 2012 when Maryland announced it was leaving for the Big Ten, the Terps were initially on the hook for an exit fee of more than $52 million. After several lawsuits, they eventually settled on a $31.4 million payoff to the ACC, which promptly strengthened the penalty for leaving even further. If a school like FSU or Clemson wanted to leave in the very near future, the bill is set to be more than $100 million.
Then there is the secondary question of just where those programs might land. The Big Ten is already at 18 teams for 2024, while the Big 12 and SEC sit at 16. Most importantly, even if any of those so-called super conferences would want to expand further, is there even enough money to make it worth it for all involved?
Behind the scenes, there has been some chatter the ACC could actually take advantage of the instability going on right now to improve its standing, but what form that would take — while keeping existing members happy — remains a big question in both the short and long term.
Will the SEC stand pat?
The latest round of conference realignment was largely kicked off by the move of Texas and Oklahoma to the SEC, but it is an open question if that was the last move by the league.
Prior to the Big Ten's addition of Oregon and Washington, Commissioner Greg Sankey has insisted publicly and privately that expansion has not been a central focus for the SEC, and the conference remains focused on integrating the Sooners and Longhorns.
"We're comfortable as a league. We're focused on our growth to 16. We've restored rivalries. We're geographically contiguous with the right kind of philosophical alignment, and we can stay at that level of super conference," Sankey said last month at SEC Media Days. "When you go bigger, there are a whole other set of factors that have to be considered."
[Did the Big Ten just do enough to surpass the SEC?]
Does the saber-rattling from Florida State and the potential for more movement around the country change that, however? The local politics are a bit tricky, as the SEC's contiguous geography presents a strength in many respects compared to its peers, but it also makes it more difficult to get a school like Florida or South Carolina to buy into adding a rival program just up the road. That's not a complete deal-breaker — see Texas joining despite quiet protests from Texas A&M — but it is something that will have to be navigated.
It's also a factor that could lead to a school such as North Carolina getting an extended look over some of the other Power 5 options if school presidents want to thread the needle and decide to add to the SEC footprint.
One option that could take on additional importance moving forward: a move from eight to nine conference games. So far the league has balked at such a move in 2024 unless there are financial reasons to do so. The increase in inventory could be worth much more to current members than simply adding a school, and the SEC's media partners could see that as the best path forward instead of keeping the realignment wheel spinning.
What happens to the Pac-12?
After the official departures of five schools Friday, the Pac-12 is teetering on the brink, to say the least.
As of now, there is no media deal in place after the upcoming season, no grant of rights signed nor a certainty that there will be any sort of cohesive membership moving forward. The Pac-12 now finds itself in the precarious position of dropping below the minimum six members needed to be a viable NCAA Division I conference.
Again, this is for next year — with a fiscal year that starts for many universities in just 11 months.
"Today's news is incredibly disappointing for the student-athletes, fans alumni and staff of the Pac-12 who cherish the over 100-year history tradition and rivalries of the Conference of Champions," a statement from the Pac-12 said. "We remain focused on securing the best possible future for each of our member universities."
"We are disappointed with the recent decisions by some of our Pac-12 peers," Washington State president Kirk Schulz and athletic director Pat Chun added in a joint statement. "While we had hoped that our membership would remain together, this outcome was always a possibility, and we have been working diligently to determine what is next for Washington State athletics. We've prepared for numerous scenarios, including our current situation."
Several Mountain West schools, particularly San Diego State, have already been connected to the Pac-12 as potential expansion targets before this past week. SMU has had conversations, too. But what would they be jumping into exactly? Just as notable is that exit fees for any Group of 5 school to make it to the league would range from prohibitive at best to completely out of the question at worst.
Perhaps it's possible that a reverse merger with the Mountain West could be engineered, not unlike what happened with the remnants of the old Big 8 and Southwest Conference that gave berth to the Big 12. That could allow the Pac-12 to remain inside the NCAA's Autonomy Five governance structure and get additional College Football Playoff revenues for each of the next two years.
Pac-12 Commissioner George Kliavkoff, who lives in Las Vegas, understands he was dealt a bad hand to begin with, but enters what should have been a quiet weekend instead fighting for the league's very existence with few chips to play. It doesn't help either that, outside of Schultz, much of the conference's leadership among the school presidents is either fresh on the job or extremely inexperienced when it comes to college athletics.
How does this impact the College Football Playoff?
For the upcoming 2024 season, beyond the awkwardness that will result from everything going on, nothing will change with the College Football Playoff. After that, it's up in the air.
The conference commissioners have been busy meeting the past few months to discuss how the expanded 12-team CFP will work, but details remain to be ironed out. There still isn't clarity on where games would be broadcasted, nor what specific payouts will be for both teams and conferences. Conference realignment only adds another layer on top.
Keep in mind that the existing contract for the playoff remains in place for another two years despite the move to 12 teams. After that, though, all bets are off as to what the format, payouts and other details could be. Could an enlarged Big Ten and SEC push for more at-large bids and not have it be the top six conference champions? It's possible.
Of course, as we've seen this week, anything truly remains possible in the world of college athletics.
Bryan Fischer is a college football writer for FOX Sports. He has been covering college athletics for nearly two decades at outlets such as NBC Sports, CBS Sports, Yahoo! Sports and NFL.com among others. Follow him on Twitter at @BryanDFischer.
---
COLLEGE FOOTBALL trending
---
Get more from College Football Follow your favorites to get information about games, news and more
---