SPORTS
Dak Prescott undeterred by expectations, guarantees fewer interceptions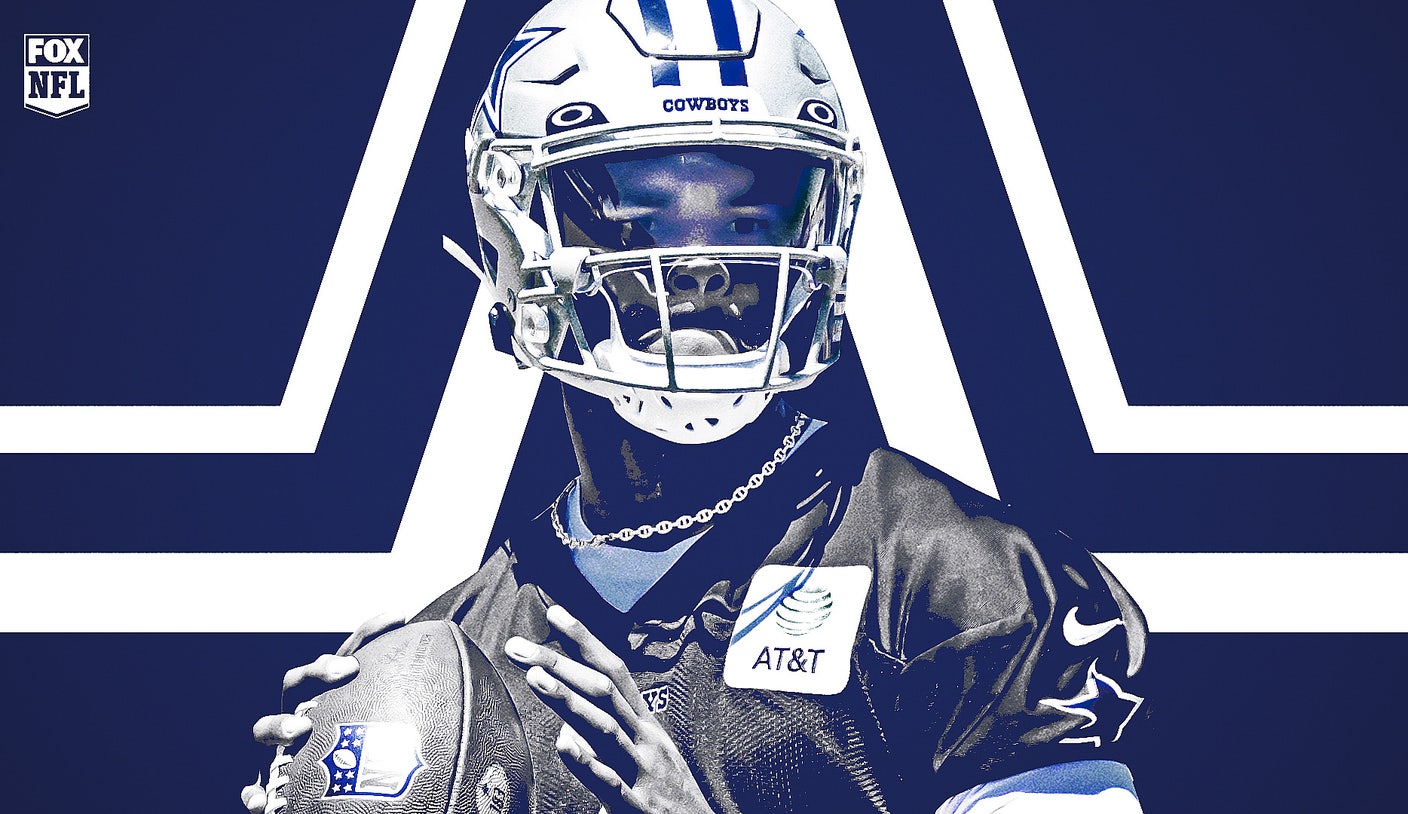 David Helman
Dallas Cowboys Insider
Lest there be any confusion, Dak Prescott made his promise much clearer this time around.
"I'm not going to stop being aggressive — 10 or tipped, whatever you say it is," Prescott said with a laugh on Thursday. "I am going to lessen my interception numbers, that is guaranteed."
The joke refers to one of the more inside journalism stories of the summer. Prescott's quote earlier this month about limiting tipped interceptions was apparently misheard, leading to a 24-hour cycle of misplaced intrigue.
Props to Prescott for removing the ambiguity. And it can't be surprising to hear him double down on his confidence, because that's what this whole issue is about: confidence. As the Cowboys' veteran quarterback seeks to cut down an interception tally of 17 for the 2022 season, he's adamant that he can't change the way he plays.
"We're trying to gain chemistry here, we're trying to be aggressive. As I've said, that's who our coach is, that's who I am," he said. "That's the confidence I've gained in myself and I've worked so hard to be able to have this confidence and to be able to make the throws that I'm making."
That's an encouraging approach, given the resources the Cowboys have spent to improve their passing game from last season. But the fun of aggression — and of daily practice — is the opportunity for mishap. Already through two practices, Prescott has thrown two interceptions. One was a perfectly placed pass that clanged off his receiver's hands, and the other was a 50/50 ball that a cornerback came away with.
For a guy who led the league in picks, who happens to quarterback that league's most visible team, that's bound to raise some eyebrows. Tasked with galvanizing a new-look receiver corps and tight end group, Prescott can't afford to worry about that.
"That's just two, right? If it continues every day, come back to me and I might change my mood a little bit," he said.
Dak Prescott pledges to cut down on interceptions
Besides, the public nature of training camp practice lasts a mere four weeks. After that, Prescott and the Cowboys can retreat to the privacy of their facility. From the sounds of it, that's as far as it'll go. Prescott confirmed this week that he's been asked — twice — to participate in the new Netflix series, Quarterback. As a veteran who has appeared on both of the NFL's tentpole reality shows, Hard Knocks and All Or Nothing, it doesn't sound like he'll be going for the trifecta.
"I get enough media. This team gets enough coverage," he said. Prescott even noted that he asked Peyton Manning, the new show's executive producer, if he'd have filmed a similar show during his Hall of Fame career. Asked for Manning's response, Prescott smiled. "I didn't do it, right?"
Declining to participate in a reality show isn't going to lessen the amount of scrutiny on Prescott, as he well knows. Fortunately for him, that's not something he's ever shied away from.
With his 30th birthday looming on Saturday, Prescott was asked about his NFL journey to this point, and the expectations that come with quarterbacking the Cowboys. It hasn't all been as rosy as that magical 2016 season, when he and Ezekiel Elliott burst onto the scene to lead the team to a 13-3 record.
"I'd say that the way that my rookie year went, that kind of messed my head up and I didn't think it was going to be as hard as it's been the six years following," he said.
It's a testament to the fleeting and difficult nature of the NFL that Elliott is now gone, having been a foundation of the team at Prescott's side. And at the same time, despite plenty of tragedy and triumph, the Cowboys have gone no further than they did back then.
That brings back the word confidence, which Prescott has in spades. As he enters his 30s, with an ever-younger roster he's charged with leading, he'll need it.
"I don't want anything that's easy," he said. "Never have gotten anything easy in my life, don't ask for anything. Damn sure not going to start now."
David Helman covers the Dallas Cowboys for FOX Sports. He previously spent nine seasons covering the Cowboys for the team's official website. In 2018, he won a regional Emmy for his role in producing "Dak Prescott: A Family Reunion" about the quarterback's time at Mississippi State. Follow him on Twitter at @davidhelman_.
FOLLOW Follow your favorites to personalize your FOX Sports experience
---
Get more from National Football League Follow your favorites to get information about games, news and more
---