SPORTS
England great Stuart Broad to retire after Ashes finale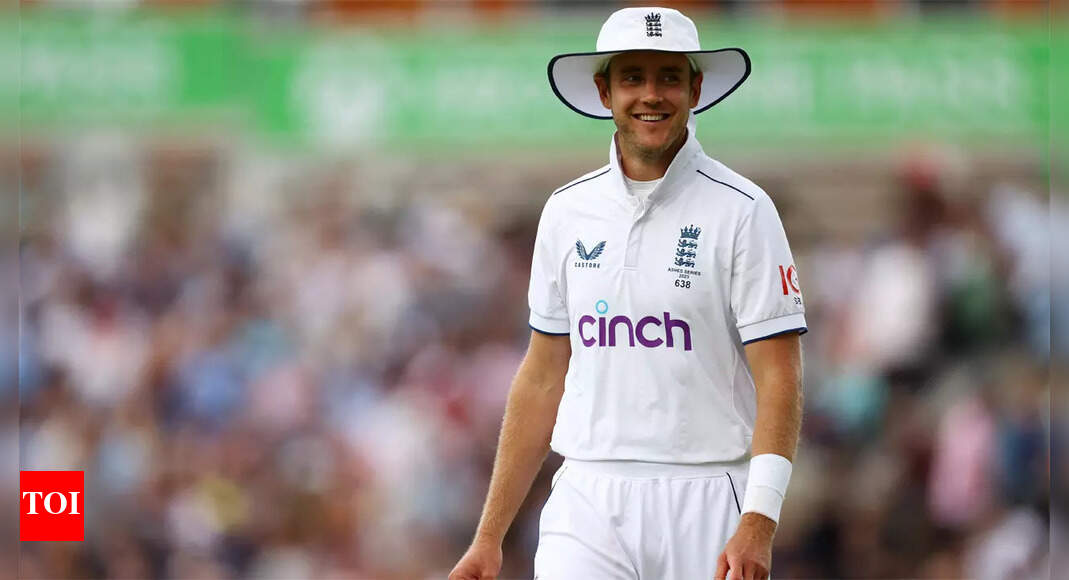 England great Stuart Broad to retire after Ashes finale
NEW DELHI: England fast bowler Stuart Broad has decided to bid farewell to Test cricket, culminating a magnificent 17-year international career. With a remarkable contribution to the game, he leaves behind a legacy that will be remembered for years to come.
The 37-year-old seamer, the fifth most successful bowler in Test history with 602 wickets, told Sky Sports after stumps on the third day of the fifth Ashes Test: "Tomorrow (Sunday) or Monday will be my last game of cricket.
"It has been a wonderful ride and a huge privilege to wear the Nottinghamshire and England badge as much as I have."
Over the course of his illustrious career, Broad showcased his talents in various formats, playing 167 Test matches, 121 One Day Internationals, and 56 T20 Internationals, amassing an impressive tally of 845* wickets across all formats.
Having made his Test debut against Sri Lanka in 2007, Broad's journey in the longest format of the game has been nothing short of extraordinary. He will forever be etched in the annals of cricketing history as one of the finest fast bowlers ever to grace the sport.
Standing alongside his teammate James Anderson, Broad is one of only two fast bowlers to achieve the remarkable feat of surpassing 600 Test wickets for their country. His final game at The Oval this week marked yet another milestone as he secured his 150th Ashes wicket, further solidifying his status as a legendary cricketer.
His career-best figures of 8 for 15 against Australia at Trent Bridge in the 2015 Ashes will be remembered as one of the finest spells of fast bowling in history.
The Nottinghamshire bowler leaves international cricket with a number of honours to his name, including the 2010 T20 World Cup and four Ashes series wins.
function loadGtagEvents(isGoogleCampaignActive) { if (!isGoogleCampaignActive) { return; } var id = document.getElementById('toi-plus-google-campaign'); if (id) { return; } (function(f, b, e, v, n, t, s) { t = b.createElement(e); t.async = !0; t.defer = !0; t.src = v; t.id = 'toi-plus-google-campaign'; s = b.getElementsByTagName(e)[0]; s.parentNode.insertBefore(t, s); })(f, b, e, 'https://www.googletagmanager.com/gtag/js?id=AW-877820074', n, t, s); };
window.TimesApps = window.TimesApps || {}; var TimesApps = window.TimesApps; TimesApps.toiPlusEvents = function(config) { var isConfigAvailable = "toiplus_site_settings" in f && "isFBCampaignActive" in f.toiplus_site_settings && "isGoogleCampaignActive" in f.toiplus_site_settings; var isPrimeUser = window.isPrime; if (isConfigAvailable && !isPrimeUser) { loadGtagEvents(f.toiplus_site_settings.isGoogleCampaignActive); loadFBEvents(f.toiplus_site_settings.isFBCampaignActive); } else { var JarvisUrl="https://jarvis.indiatimes.com/v1/feeds/toi_plus/site_settings/643526e21443833f0c454615?db_env=published"; window.getFromClient(JarvisUrl, function(config){ if (config) { loadGtagEvents(config?.isGoogleCampaignActive); loadFBEvents(config?.isFBCampaignActive); } }) } }; })( window, document, 'script', );