ENTERTAINMENT
Karan Johar reveals if it was hard to convince Dharmendra and Shabana Azmi for doing a lip lock in Rocky Aur Rani Kii Prem Kahaani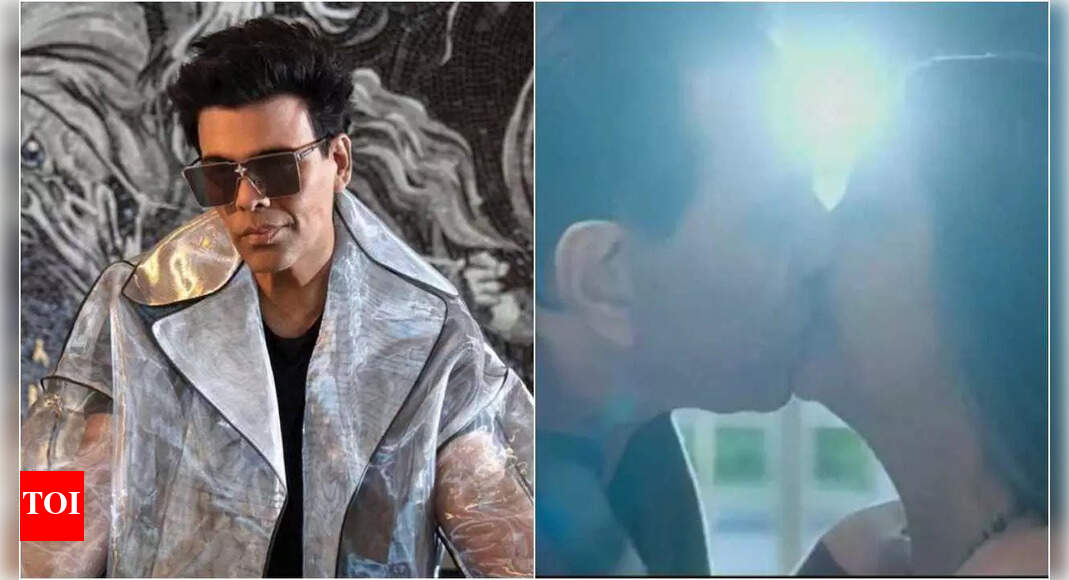 The lip lock between two veteran actors Dharmendra and Shabana Azmi in Rocky Aur Rani Kii Prem Kahaani came as a surprise to the audience. In a new interview, Karan Johar opened up about whether it was hard to convince either of the actors for the kissing scene in the film.
Karan said that there was no debate about the kissing scene. Both Shabanaand Dharmendra were absolutely fine with it.
"Two great veterans just performing with absolute aplomb, no questions asked. I needed it to be a pack. One of my all-time favourites is Abhi Na Jao Chhod Kar and it had to be their song because that's what she says in the dialogue about Mall Road walks, their re-run, their favourite song. And that became the thematic kind of connection of Rocky (Ranveer Singh) and Rani (Alia Bhatt) as well," Karan told Film Companion.
In the same interview, Karan also revealed that the character of Rani's father, played by Tota Roy Chowdhury, has been borrowed from his childhood. He recalled being called names in college just the way Tota's character gets laughed at and faces humiliation after performing on stage as people associate Kathak with femininity.
Karan said that as a child he was very effeminate and he used to dance in his room to Hindi songs. His father Yash Johar thought it was great as Karan would do Jaya Prada's part in Dafli Wale Dafli Baja song. His father used to watch and clap for him and every time his friends came, he would ask Karan to show them his dance moves.
"No one told me there was anything wrong at that time. So I grew up thinking (that) this is fine. Much later when you go to college you realise when you carry that through and do those moves, and people look at you and laugh," he said, adding that he believes in 'Hunar ka koi gender nahi hota (talent has no gender)'.
While Karan didn't call it as a traumatic experience, he wondered why it was not okay for others to see him as he was when his father didn't see any problem in it.
function loadGtagEvents(isGoogleCampaignActive) { if (!isGoogleCampaignActive) { return; } var id = document.getElementById('toi-plus-google-campaign'); if (id) { return; } (function(f, b, e, v, n, t, s) { t = b.createElement(e); t.async = !0; t.defer = !0; t.src = v; t.id = 'toi-plus-google-campaign'; s = b.getElementsByTagName(e)[0]; s.parentNode.insertBefore(t, s); })(f, b, e, 'https://www.googletagmanager.com/gtag/js?id=AW-877820074', n, t, s); };
window.TimesApps = window.TimesApps || {}; var TimesApps = window.TimesApps; TimesApps.toiPlusEvents = function(config) { var isConfigAvailable = "toiplus_site_settings" in f && "isFBCampaignActive" in f.toiplus_site_settings && "isGoogleCampaignActive" in f.toiplus_site_settings; var isPrimeUser = window.isPrime; if (isConfigAvailable && !isPrimeUser) { loadGtagEvents(f.toiplus_site_settings.isGoogleCampaignActive); loadFBEvents(f.toiplus_site_settings.isFBCampaignActive); } else { var JarvisUrl="https://jarvis.indiatimes.com/v1/feeds/toi_plus/site_settings/643526e21443833f0c454615?db_env=published"; window.getFromClient(JarvisUrl, function(config){ if (config) { loadGtagEvents(config?.isGoogleCampaignActive); loadFBEvents(config?.isFBCampaignActive); } }) } }; })( window, document, 'script', );