ENTERTAINMENT
Kizomba and social dancing have Thiruvananthapuram on its toes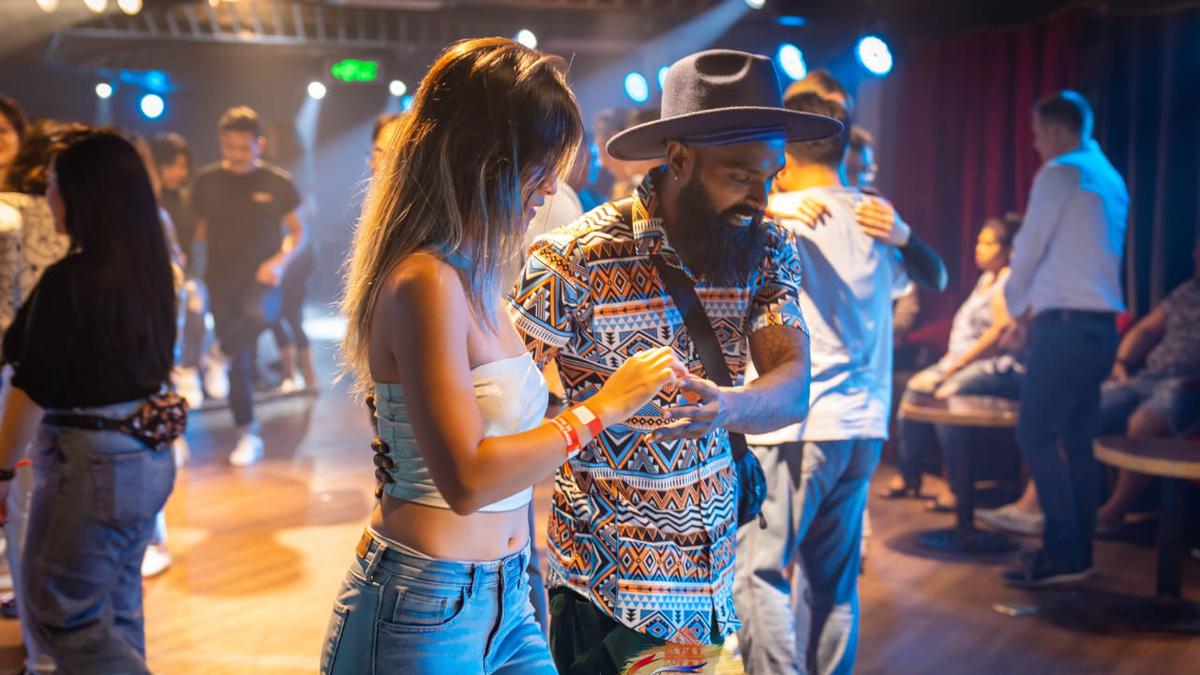 As the world recovers from the pandemic-induced social distancing norms there seems to be a trend to celebrate every moment. One of the manifestations of this is evident in different kinds of Afro-Latin social dances that are becoming popular in Kerala. From Cubano Salsa to Dominican Bachata, social dancing involves partnering with someone — your romantic interest, a friend or a stranger — and losing yourselves to the groove.
On the dance floor
BigFoot Dance Arena in Kuravankonam, has surfaced as a hub for social dancing in Thiruvananthapuram. Having held many workshops for Latin dances, the studio is currently conducting regular classes for African forms. Founded by Kevin Poulose in 2018, it began with creating a platform for Western street style dancing in Thiruvananthapuram but has since diversified to include a variety of styles from across the world.
"There's been a surge in demand for Afro-Latin dances across Kerala. Inquiries about those, especially Afro, and the number of social dance workshops being conducted have increased in the past few years," says Kevin.
The reason for the demand? Social media. "Of late, African beats and choreography have become increasingly popular; and there is an influx of content being made on it. People across India are exposed to diverse dance forms through these platforms and there is a booming professional dance community in Kerala," he explains.
Dance knows no bounds
Kizomba is the new kid on the block. Of Angolan origin, Kizomba, which literally translates to 'party', traces its history to the formative years of the civil war there, connecting the community during a period of fear and insecurity. Being a genre of music and dance inspired by other regional forms, it incorporates the 'lead-and-follow style' with slow romantic rhythms.
"The biggest obstacle I faced was getting people to embrace each other. Many of the students were not comfortable with the idea. So this became a lesson on how to respect your partner's boundaries through responsible contact (which respects your dancing partner's personal space and comfort zone), " says Karthik Rana, a techie- turned-professional dance consultant and organiser of 'Let's Kizomba.'
Karthik's appreciation for social dancing began when he attended 'Salsa Night (socials)' in Bengaluru's Indigo XP, in 2018. He has since explored various different styles, of which he found the Angolan form most organic. Partnering up with Kevin's dance studio, Karthik has brought the form to Thiruvananthapuram with this initiative, which features a fusion of different styles under the Kizomba umbrella.
Karthik believes the perception of Kizomba and other social dances as solely sensual is stereotyped and misconceived. "The proximity required by the dance is more technical than people think. The movements are precise and the beats are intricate; to reduce it to just sensual is unwarranted," he maintains.
Keeping up
Conducting Kizomba sessions twice every week, Karthik's project is gaining momentum after the initial demo class. Among the regular students is Lekshmi Chithra. A trained Bharatanatyam dancer, Lekshmi has prior training in Bachata and Salsa and is a part of the Latin dance community in the city. Kizomba, however, was new to her. "I have attended Socials (arenas for social dancing) before, and seen others performing Kizomba. Intrigued, I thought I'd give it a go," says Lekshmi.
Lekshmi contends, "Social dancing is on the rise in Thiruvananthapuram, and it will definitely boost the city's popularity among youngsters."
Can't stop the feeling
With new avenues opening up, the social dancing culture appears to be here to stay. "There's a lot of potential for growth. We've started developing a nightlife in the city and the interest in Afro-Latin dance forms across India has been progressing at an unprecedented pace. It would be a good opportunity to augment tourism too, as there is a significant flow of foreigners to such events," says Karthik.
Karthik hopes to organise a bustling Trivandrum International Dance Congress for professional dancers and social dance enthusiasts in 2024.