ENTERTAINMENT
Lizzo lawsuit news: Singer denies sexual harassment allegations made by former dancers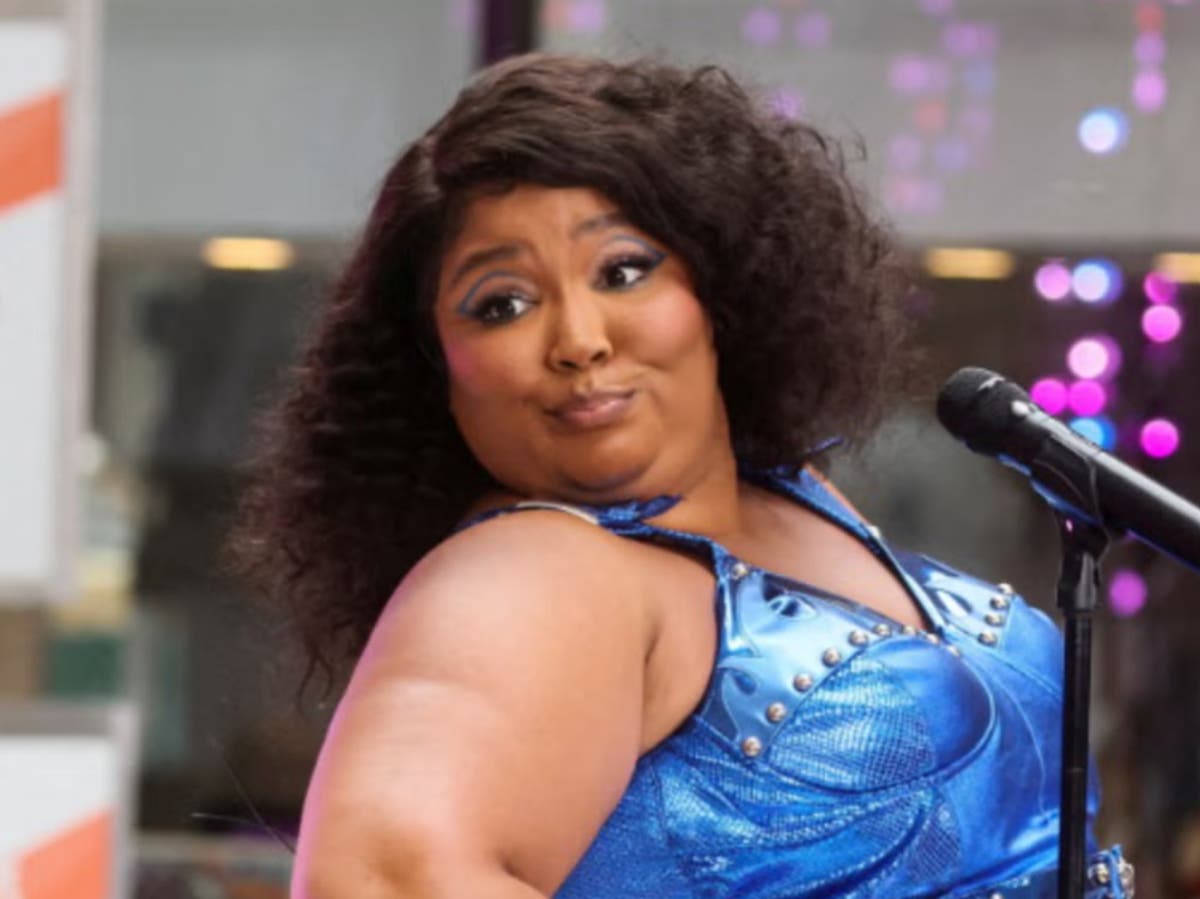 Lizzo has said "I'm not the villain"
Lizzo has said "I'm not the villain" in response to sexual harassment and fat-shaming claims in a lawsuit filed by three former troupe members.
"These last few days have been gut wrenchingly difficult and overwhelmingly disappointing. My work ethic, morals and respectfulness have been questioned. My character has been criticized," she wrote in a statement posted on her social media channels.
Shortly after the singer broke her silence, the accusers reacted in shock to Lizzo's "disheartening" response to their claims during their first UK TV appearance since their allegations came to light on Tuesday (1 August).
"Initially for me it just further deepened my disappointment in regards to how I was feeling and how I was treated," Crystal Williams said on Channel 4.
According to the legal filing, Lizzo (real name Melissa Viviane Jefferson) allegedly pressured one of her dancers, Arianna Davis into touching a nude performer at an Amsterdam strip club.
It is also alleged that the Grammy winner set up a humiliating 12-hour re-audition for her dancers, and fostered a hostile work environment.
1691191089
Who else is named in the lawsuit?
The other defendants include Quigley and Big Grrrl Big Touring Inc.
Davis alleges that Quigley "regularly preached at [her] about what [she] believed to be a shared Christian identity" and it was claimed that she had often "pushed" her beliefs on members of the dance group and made them feel "uncomfortable".
The lawsuit claims Davis's virginity became a topic of "extreme importance" to Quigley during the filming of Watch Out for the Big Grrrls. She allegedly "broadcast" this "intensely personal detail" about Davis "to the world" – including during interviews – without her permission.
Quigley allegedly made derisive comments about people who engaged in pre-marital sex despite knowing some members of the troupe "did not share her views".
Davis, Williams, and Rodrigues also accuse Quigley of "sexually inappropriate behaviour" at work, including allegedly simulating oral sex on a banana in front of the cast. They claim this "party trick" left the plaintiffs feeling very uncomfortable.
They also claim Quigley made "sexually explicit comments", including sharing her sexual fantasies with the cast.
She has been accused of imposing her religious beliefs on Rodriguez, a "non-believer". When Rodriguez asked Quigley to "refrain" from doing this, the dance captain allegedly became "irate and yelled at her".
The claims against Big Grrrl include allegations of racism towards the black woman on the dance team, with members of the management team accusing them "of being lazy, unprofessional, and having bad attitudes".
Tom Murray5 August 2023 00:18
1691187005
All the allegations made by former dancers
In the 44-page lawsuit, three dancers detail allegations of assault, inappropriate sexual behaviour, workplace misconduct, disability discrimination, and religious harassment against Lizzo and her production company, Big Grrrl Big Touring, Inc (BGBT).
It's a lot to get your head around; so, The Independent has compiled a one-sheet of all the allegations made by the plaintiffs here.
Tom Murray4 August 2023 23:10
1691181091
Video: Lizzo talks about wanting to go to banana sex show during 2019 interview
Lizzo talks about wanting to go to banana sex show during 2019 interview
Tom Murray4 August 2023 21:31
1691177653
'The allegations against Lizzo have left fans like me shaken'
In a comment piece for The Independent, Nicole Vassel writes: "Of course, the movements of body positivity, anti-racism and women's rights don't rest solely on one person – the encouraging messages Lizzo has shared in the past are still valid, whatever the outcome of the lawsuit.
"As we all wait for more details to emerge, it's too early to say what this situation means for our love of Lizzo and her music going forward. It's always hard to hear of harmful behaviour from someone we admire. But because of just how much joy and inspiration Lizzo has sparked over the years, this one really hurts."
Tom Murray4 August 2023 20:34
1691170242
RuPaul's Drag Race contestant describes Lizzo in as 'uplifting and loving'
RuPaul's Drag Race alum Kahanna Montrese is one figure who has voiced support for Lizzo in recent days. In an Instagram story, the drag performer shared a message telling the singer to "stay strong".
"I refuse to let y'all tear down [one of] the most sweetest artists I've ever worked with," Montrese wrote.
"She truly was so uplifting and loving to every single person on her tour.
Nicole Vassell4 August 2023 18:30
1691168442
ICYMI: Lizzo's defiant Instagram post just hours before lawsuit filed
Lizzo's defiant Instagram post just hours before lawsuit filed
Nicole Vassell4 August 2023 18:00
1691166642
Lyrics to Lizzo's 2021 "Rumors"raise eyebrows in light of current legal battle
Lyrics from a famous Lizzo song are raising eyebrows in the wake of the lawsuit filed against the singer.
"Rumors", released in 2021, features Cardi B and is about the protagonist dismissing gossip spread about her.
Since the news of three of Lizzo's ex-dancers suing her for inappropriate workplace conduct broke earlier this week, some of the song's lyrics have been circulating social media.
The lyrics read: "Had to cut some hoes loose, yeah / NDA, no loose lips / Now them hoes tryna sue me / B****, I don't give two s***s / All the rumors are true, yeah."
Nicole Vassell4 August 2023 17:30
1691164842
Dancers' attorney issues ultimatum after Lizzo says lawsuit claims are 'outrageous': 'Let's take it to trial'
After Lizzo published a denial of the allegations made against her earlier this week, the lawyer for the plaintiffs responded by proposing that they take the lawsuit to trial.
"Given Lizzo is denying that any of this happened, let's take it to trial," said Neama Rahmani, president of West Coast Employment Lawyers in a statement.
"More witnesses are coming forward every day corroborating the plaintiffs' allegations, so we're looking forward to facing Lizzo and her team in court."
Nicole Vassell4 August 2023 17:00
1691163042
Lizzo says dancers' claims are 'false' in first response to lawsuit
In a statement shared on social media on Thursday, Lizzo addressed the lawsuit filed by three ex-employees accusing her of sexual harassment and of fostering a harmful work environment.
The singer denied the claims and hit back at "sensationalised stories" about her in recent days.
"My work ethic, morals and respectfulness have been questioned," her statement began. "My character has been criticised. Usually I choose not to respond to false allegations but these are as unbelievable as they sound and too outrageous to not be addressed.
"These sensationalised stories are coming from former employees who have already publicly admitted that they were told their behaviour on tour was inappropriate and unprofessional.
"As an artist I have always been very passionate about what I do. I take my music and my performances seriously because at the end of the day, I only want to put out the best art that represents me and my fans."
You can read the statement in full below:
Nicole Vassell4 August 2023 16:30
1691161242
Beyoncé's mother addresses speculation singer changed lyrics in response to Lizzo lawsuit
Beyoncé has been defended by her mother Tina Knowles after fans claimed she removed Lizzo's name from a song during a recent performance.
During the set for her Renaissance world tour, the singer regularly performs "Break My Soul (The Queens Remix)", in which she lists off a number of Black female artists, including Lizzo, Lauryn Hill, Betty Davis, and her sister Solange Knowles.
Nicole Vassell4 August 2023 16:00