SPORTS
NASCAR Cup drivers discuss fair vs. foul in light of Denny Hamlin-Kyle Larson incident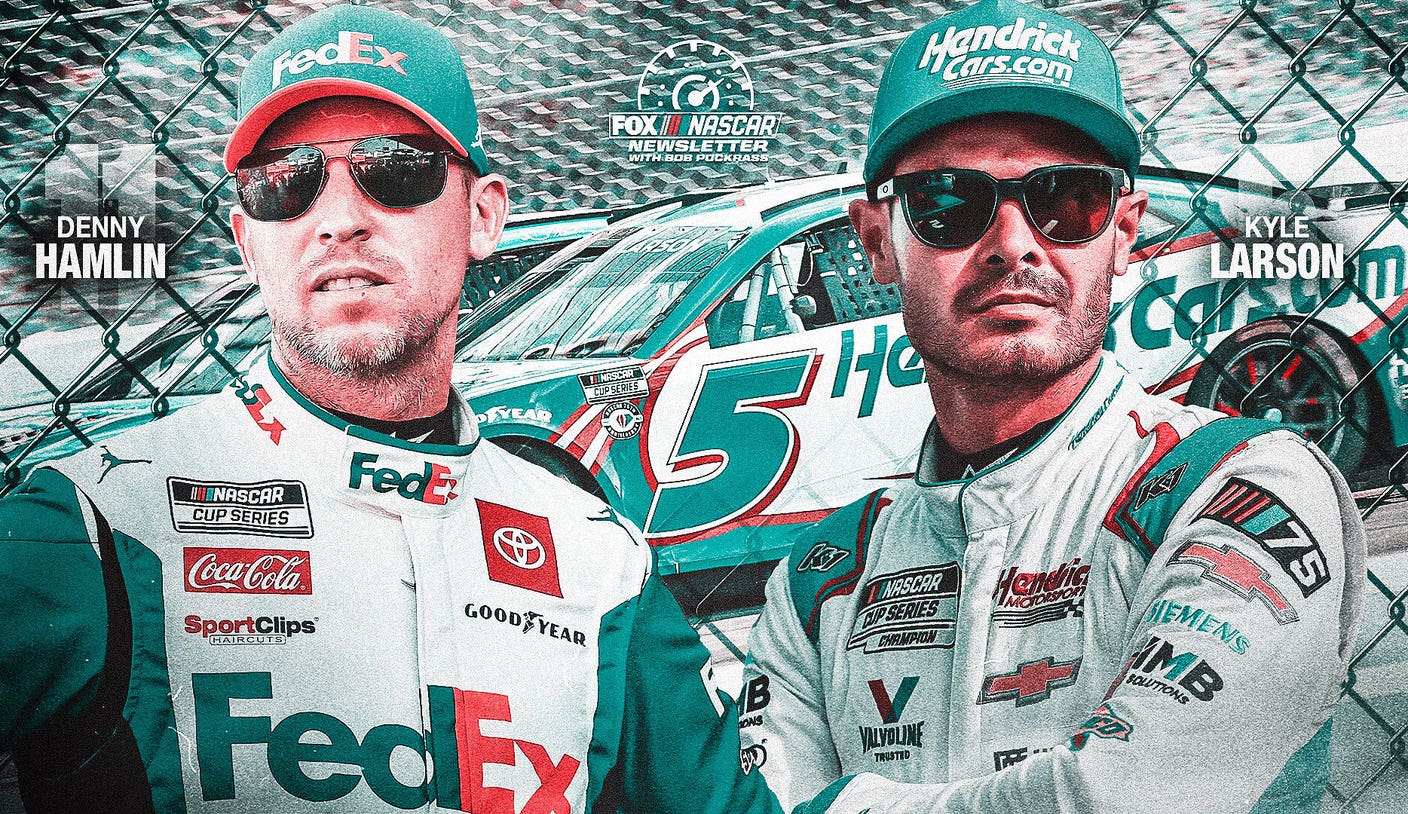 RICHMOND, Va. — Denny Hamlin restarting on the outside of the front row with three laps remaining Sunday at Richmond Raceway had people wondering.
How rough would he race people? How rough would he be raced?
It turned out he got a bad restart and Chris Buescher cruised to the victory.
Hamlin's move a week earlier to win at Pocono Raceway where he pretty much forced Kyle Larson into the wall once again brought to the limelight of fair vs. foul, especially when going for the win.
Looking for more NASCAR content? Sign up for the FOX Sports NASCAR Newsletter with Bob Pockrass!
"Nobody cares what's fair in this sport anymore," said former Cup champion Brad Keselowski. "It doesn't matter. What matters is what the rules are. The rules are it's legal.
"And that's what we race to, right? … In the end, he won the race, he got the trophy, and two or three weeks from now, nobody will remember."
Larson probably will remember. He admitted that the sting of losing at Pocono lingered with him more than previous incidents.
"I didn't have an option — I did lift, and I still hit the wall," Larson said. "That's what made me the most upset."
So what will the racing be like going forward? Will these instances escalate? The race next week at Michigan International Speedway likely could have similar side-by-side situations as Pocono. The following two weeks at road courses at Indianapolis Motor Speedway and Watkins Glen provide ample opportunity — as seen with controversial finishes over the last few years — where driver moves come into question.
Larson might have answered part of that question Sunday even though it had nothing to do with going for the win. During the race at Richmond, Larson was trying to unlap himself after pitting and with his fresher tires. Instead of driving around Hamlin, he tagged him in the bumper to get him out of the way. Hamlin didn't lose any spots.
"He's having a frustrating day, which I get it," Hamlin said. "So it's fine."
Hamlin said he had no worries on the final restart that drivers would race him differently.
"I appreciate that's a good talking point," Hamlin said. "But no, it was not [on my mind]. I'm out there trying to win the race."
Denny Hamlin discusses Richmond restart and Kyle Larson bumping him
Hamlin spent the day prior defending his move as the debate continued.
"The win meant so much to me at that time — so many different records that we could accomplish with that one win with the track, with Toyota, with myself personally," Hamlin said about his 50th victory and record seventh win at Pocono. "It's hard to say in that moment that I would do anything different for sure.
"Certainly, I didn't like the outcome for him. I wish he could have finished second, but it was just one of those things where we flat ran out of room, and I made a split-second decision to try to clear him instantly."
Drivers still have a code of racing each other the way they have been raced by that driver. That could factor in these situations.
"If that guy hasn't done something like that to me, I probably wouldn't do that to him," said William Byron, who has a season-high four wins this year. "I think there's ways to make that move and still kind of race it off the corner."
Obviously, this conversation isn't anything new. Kyle Busch remembers his infamous 2008 encounter with Dale Earnhardt Jr. at Richmond.
"You keep inching into the corner a little bit deeper every single time and there's going to be a time where you go over that limit and you slip, and that was me and made contact with him," Busch said. "We were side-by-side for three laps, and it was kind of building up. It was going to be inevitable.
"But those are hard racing moments and those are moments in which you're pushing a little bit more. When you get side-by-side with somebody for the first chance, and you just whack them out? That's not racing, that's whacking."
Kyle Larson on why he and Denny Hamlin haven't discussed Pocono finish
Drivers view the Next Gen car introduced in 2022 as a contributing factor to the discussion. Part of it is the way the cars react when side by side.
"He's pretty notorious for doing that move," Ryan Blaney said about Hamlin. "It's so backwards to what it used to be with this car compared to the other car — you used to be scared to death being the inside car with a car tight on your right-side door, you'd spin out.
"And now the advantage is flipped to the inside car. If you get close to the outside car, you make them extremely tight. And you can put guys in bad spots of getting on their left side door pretty early exit of the corner to get them out of position. And then you just lift and turn left and say, 'Well, I gave him a lane' when you kind of already had that guy in a bad spot to begin with."
And then the car is more forgiving in most situations when there is contact. If there is less of a chance of a driver damaging the car when making an aggressive move, there is more incentive to make such a move.
"The Next Gen car with its extreme durability makes it prone to more passing via contact than the old cars did," Keselowski said. "That's not meant just to be that situation — just in general all situations.
"That's had a profound effect on what you're seeing on the racetrack as a fan and what we are expected to do as a driver."
Brad Keselowski discusses his view of racing with the Next Gen car
Keselowski compared the car to another vehicle (and not typically a fast one).
"The car is a tank and people race it like a tank accordingly," Keselowski said. "So that's created some different dynamics, and that's obviously going to put some stress points throughout the season where moves are always kind of blurring up against some kind of ethics line.
"I don't think that's anything new. And we're just going to continue to see the racing get more and more aggressive until something pulls it back."
That's the big question. Will NASCAR have to step in and officiate these situations? NASCAR has stood by its philosophy that racing is a contact sport and contact while racing for position is permissible.
That means a driver making a move that puts another driver in a bad position likely will be considered a racing incident. But NASCAR has taken a stance recently on retaliation with fines and point penalties, even suspending drivers for egregious incidents.
"It's becoming more common because what's the penalty for the inside guy, right?" Byron said. "He's going to hit you and move on. You can't retaliate. You can't go up to him — there's nothing you can do.
"Like once your car is in the wall, it's damaged and it's over for you. I think you have to look at the tactics of it and what that means for your race, and I think for the inside guy, he kind of goes on."
Cup Series drivers discuss the nature of the Pocono finish
Thinking Out Loud
The NASCAR Hall of Fame vote is set for Wednesday, and there is a lot of chatter about whether seven-time Cup champion Jimmie Johnson will be a unanimous choice.
He likely won't and here's the reason: There are people who likely believe he shouldn't be on the ballot.
A driver is eligible in the third year after retiring. Johnson "retired" from Cup racing after the 2020 season but has returned this year to run select races.
Count me among those who think that his racing this year should impact his eligibility. I'm a voter Wednesday, but I'll take the view that because the nominating committee decided he was eligible and put him on the ballot, I vote based on the ballot and not whether he should be eligible.
But it is quite likely that reasoning will keep someone from voting for him. There are no guidelines for voters so while I'd disagree with that philosophy, I could see it being a reason to not vote for Johnson.
In the end, does it really matter if he's unanimous? No. He'll be enshrined with the 2024 class. But it will certainly create a little bit of controversy and a little bit of stir.
In The News
—Ty Dillon, 32nd in the Cup standings, has a new crew chief as Spire looks for his performance to improve. Kevin Manion, who has extensive Cup experience and has run Spire's truck program, has replaced Kevin Bellicourt, who is no longer with the organization.
—NASCAR is testing a new underwing for short tracks and road courses Monday (today) and Tuesday at Richmond. The underwing is designed to create lift when a car is in clean air but add downforce to the trailing cars in traffic. All of the drivers who were going to do the test originally scheduled for New Hampshire will do the Richmond test except one. Erik Jones has a good excuse. He's getting married on Wednesday. Noah Gragson will do the test instead. The others: Christopher Bell, Harrison Burton, William Byron, Justin Haley and Ryan Preece.
—The truck playoff field is set following the race Saturday night at Richmond. With three spots open going into the final race, Matt DiBenedetto, Nick Sanchez and Matt Crafton secured those final three spots on points. Already having qualified: Corey Heim (the regular-season champion), Zane Smith, Christian Eckes, Ben Rhodes, Grant Enfinger and Carson Hocevar with wins and Ty Majeski on points.
Social Spotlight
Stat of the Day
Chris Buescher had never led a lap at Richmond in a Cup race until his victory Sunday.
They Said It
"We moved from irrelevant to relevant. The next step is to try to be contenders. You get to the contender status by winning races." —Brad Keselowski on RFK Racing after Chris Buescher's Richmond win
Bob Pockrass covers NASCAR for FOX Sports. He has spent decades covering motorsports, including the past 30 Daytona 500s, with stints at ESPN, Sporting News, NASCAR Scene magazine and The (Daytona Beach) News-Journal. Follow him on Twitter @bobpockrass, and sign up for the FOX Sports NASCAR Newsletter with Bob Pockrass.
Top NASCAR stories from FOX Sports:
FOLLOW Follow your favorites to personalize your FOX Sports experience
---
Get more from NASCAR Cup Series Follow your favorites to get information about games, news and more
---