SPORTS
NASCAR Hall of Fame: Jimmie Johnson, Chad Knaus headline 2024 inductees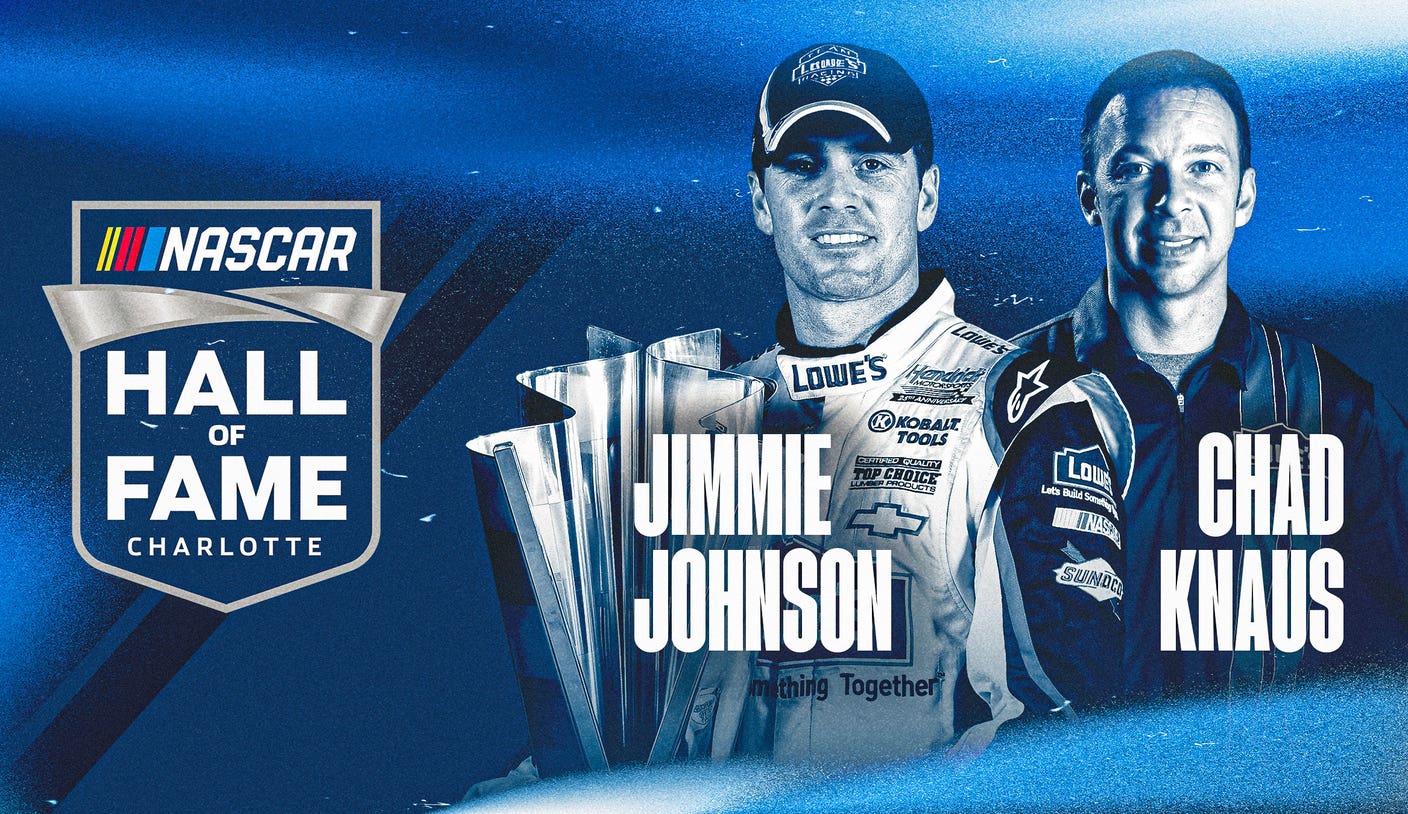 CHARLOTTE, N.C. — Jimmie Johnson and crew chief Chad Knaus combined for one of the most dominant teams in NASCAR history, and they will enter the NASCAR Hall of Fame together next January as part of a three-member class announced Wednesday afternoon.
"I'm so glad that it's all played as it has," Johnson said. "It's so fitting for us both to go in together. … We just wanted to go racing.
"Our parents raced. Our families raced. We just wanted to be racers. I know I tried to dream big, but I couldn't have dreamed this big."
About the only thing they didn't do in careers where they won seven Cup titles, including an unprecedented five consecutive championships from 2006-2010, was get selected into the Hall of Fame by a unanimous vote of the 57 ballots cast by the panel (including one cumulative online fan vote).
Johnson was on 53 of the 57 ballots. There has never been a unanimous selection to the NASCAR Hall of Fame since it opened in 2010.
"It doesn't matter," Johnson said as he sat in the main foyer of the Hall of Fame after the vote was announced Wednesday. "Nope. It doesn't."
Knaus was on 81 percent (46 of 57) as the panel voted from 10 nominees on the "Modern Era" ballot. Donnie Allison, who like Johnson and Knaus was on the ballot for the first time, was selected from the five-nominee "Pioneer Era" ballot for those whose careers started at least 60 years ago. He was on 53 percent of the ballots.
Johnson is currently a co-owner of Legacy Motor Club and has competed in three races this year, his first two Cup events not for Hendrick Motorsports, where he won 83 races from 2002-2017 before going winless over his final three seasons. Knaus was crew chief for 81 of those victories and also had one victory as crew chief for William Byron.
Knaus is vice president of competition at Hendrick. The fact both are still active in the sport, including Johnson as a driver (he was eligible because he was in his third year of NASCAR retirement from full-time racing), potentially could have resulted in panelists not voting for them.
"If this man right here isn't an unanimous vote, I don't know if anybody ever will be," Knaus said as he sat next to Johnson. "He's the nicest guy. The best race-car driver to ever sit in a NASCAR race car.
"He's a huge contributor to our sport … He is the ideal picture of what a Hall of Fame inductee."
Harry Gant was the highest vote-getter who was not selected on the Modern Era ballot followed by Ricky Rudd and Carl Edwards. Other nominees: Neil Bonnett, Tim Brewer, Jeff Burton, Harry Hyde and Larry Phillips.
Allison joins older brother, Bobby, and Bobby's son, Davey, in the NASCAR Hall of Fame. He won 10 Cup races from 1966-88 and was the 1967 Cup rookie of the year. He was part of a group of racers known as the "Alabama Gang" that attracted significant fandom.
Banjo Matthews was the highest vote-getter who was not selected on the Pioneer Era ballot. Other nominees: Sam Ard, A.J. Foyt and Ralph Moody.
The 2024 induction ceremony is set for Jan. 19 and it will be a celebration of one of the greatest pairings in the sport's history as well as a celebration of family — Johnson and Knaus consider each other family and that of the Allisons.
"I never had anyone in my life push me as hard or as well as Chad Knaus has," Johnson said. "He brought the best out of me every time I jumped in one of his race cars."
Knaus seemed a little genuinely surprised.
"It's humbling," Knaus said. "It's an honor and I'm proud to be here."
It wasn't surprising to many.
"I cannot imagine a more fitting moment than Jimmie and Chad being inducted into the NASCAR Hall of Fame in the same class," said Hendrick Motorsports owner and NASCAR Hall of Famer Rick Hendrick.
"As individuals, they're truly unique, with different personalities, strengths and approaches to their craft. Each is a champion and generational talent in their own right. But together, they were pure magic."
Bob Pockrass covers NASCAR for FOX Sports. He has spent decades covering motorsports, including the past 30 Daytona 500s, with stints at ESPN, Sporting News, NASCAR Scene magazine and The (Daytona Beach) News-Journal. Follow him on Twitter @bobpockrass, and sign up for the FOX Sports NASCAR Newsletter with Bob Pockrass.
Top NASCAR stories from FOX Sports:
FOLLOW Follow your favorites to personalize your FOX Sports experience
---
Get more from NASCAR Cup Series Follow your favorites to get information about games, news and more
---