SPORTS
NFL young talent: No. 25 Texans' rebuild depends on C.J. Stroud, Will Anderson Jr.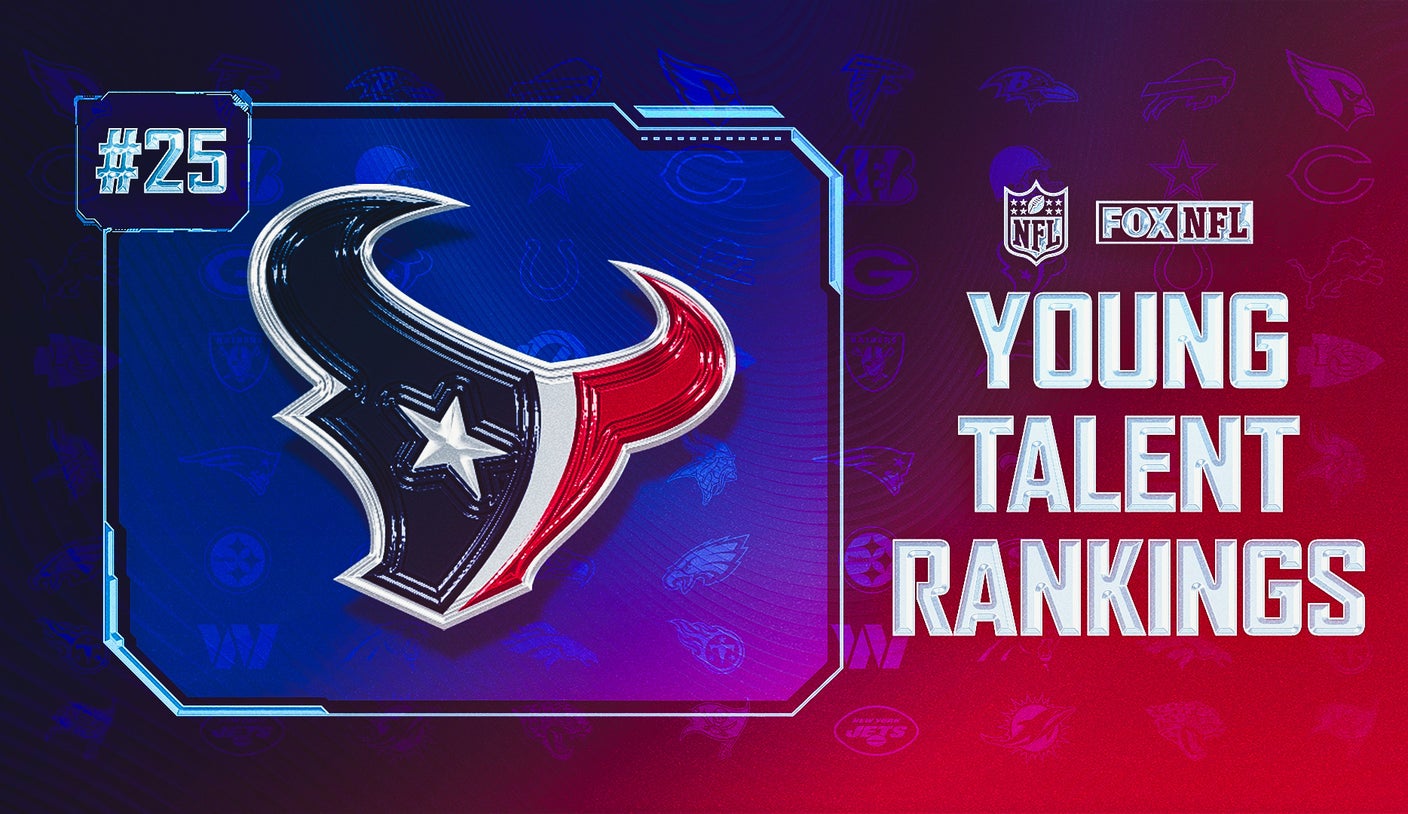 Ben Arthur
AFC South Reporter
Which NFL teams have the best young cores? FOX Sports took a deep look at every team's core of players drafted between 2019 and 2023 to ascertain which franchises have the most promising base of young talent. Our writers ranked all 32 individually, and the final result is an aggregate of those lists. We'll count them down for you before the start of the 2023 NFL season, starting with the worst (No. 32) all the way up to No. 1.
The Texans are positioned to take a major step forward in 2023 with new coach DeMeco Ryans and a promising core of first- and second-year players, including quarterback C.J. Stroud and edge rusher Will Anderson Jr., the second and third overall picks in this year's draft, respectively.
For a rebuilding team, though, Houston doesn't have the quantity of high-upside young talent as one would hope. Just one member of its seven-player 2019 draft class is still on the team: right tackle Tytus Howard. And just two draft picks from its 2020 class are still on the team: defensive lineman Jonathan Greenard and offensive tackle Charlie Heck, neither of whom are true standouts at their respective positions.
So the continued development of the Texans' 2022 draft class will play a critical role in whether the franchise can be an AFC contender in the years to come. Houston should have as many as six starters from the group this season: cornerback Derek Stingley Jr., left guard Kenyon Green, wide receiver John Metchie III, linebacker Christian Harris and running back Dameon Pierce.
If remains to be seen if Stroud and Anderson can be the franchise quarterback and defensive cornerstone they were drafted to be, respectively. If they show signs that they can, the Texans could have a Super Bowl window open within two or three seasons.
If they can't, the rebuilding Houston team will be set years back — and general manager Nick Caserio could lose his job. Caserio has already been sitting on thin ice, with the opportunity to hire three head coaches in three seasons. Houston is 7-26-1 since he became general manager in 2021.
Young Core
QB C.J. Stroud
Edge Will Anderson Jr.
S Jalen Pitre
CB Derek Stingley Jr.
RB Dameon Pierce
RT Tytus Howard
Houston Texans among biggest winners of 2023 NFL Draft
Standouts
S Jalen Pitre
A second-round pick last year out of Baylor, Pitre flashed Pro Bowl potential as a rookie. He stuffed the stat sheet: 147 tackles (first among rookies, 11th among all players), eight pass breakups and five interceptions (second among rookies, tied for fifth among all players). His play speed and physicality stand out, as Pitre he looks like a human missile flying around the field. But his discipline needs improvement. He led the NFL with 36 missed tackles, according to Pro Football Focus.
RB Dameon Pierce
Pierce was in the AP Offensive Rookie of the Year conversation before suffering a season-ending ankle injury in Week 14 against the Dallas Cowboys. The 2022 fourth-round pick had 220 carries for 939 yards (third among rookies) and four touchdowns in 13 games last year. His production was all the more impressive considering the Texans' run-blocking issues. Houston running backs in 2022 were tackled at or behind the line of scrimmage on 19% of their carries, tied for 24th in the league, according to Football Outsiders.
A violent downhill runner, Pierce is expected to once again be the focal point of the offense with first-time playcaller Bobby Slowik. His production should also improve with a revamped offensive line. Houston drafted center Juice Scruggs in the second round and traded for veteran guard Shaq Mason, who signed a three-year, $35 million extension in May.
Tytus Howard 
Howard, signed to a three-year, $56 million extension last month, is a rising right tackle in the NFL. He allowed just three sacks last season, tied for third among offensive tackles who played at least 628 pass-block snaps, according to Pro Football Focus. He also allowed 38 pressures on the year, which ranked 11th, per PFF.
With Howard and Laremy Tunsil as the bookend tackles, Stroud should have quality pass protection from the edge of the pocket.
Potential breakouts
Derek Stingley Jr. 
Stingley, the No. 3 overall pick last year, played well in limited appearances as a rookie. He had 43 tackles, five pass breakups and an interception in nine games. Of the 155 defensive backs who played at least 245 coverage snaps in 2022, he ranked 21st with a 70.1 passer rating allowed when targeted, according to Next Gen Stats.
From an upside standpoint, Stingley could be one of the best cornerbacks in the league. The multiplicity of Ryans' defense should allow the former LSU star to shine in a way he never could playing under Lovie Smith, who deployed primarily a Cover-2 scheme.
"I get to be at the line of scrimmage," Stingley said last month of Ryans' defense. "I get to be off [man]. I'm doing everything. I feel like I'm around the ball a lot more. More plays will be made."
The concern with Stingley, though, is his health. After missing 13 games his last two seasons at LSU, he missed eight games as a rookie with a hamstring issue.
Will Anderson Jr.
Anderson has a chance to be the Texans' top pass rusher as a rookie. Houston's sack leader last season was 34-year-old Jerry Hughes, who had nine sacks. No other Texan had more than five.
Anderson will be operating out of a three-point stance off the edge for the Texans, which was his primary role at Alabama. The familiarity could help him flourish in the NFL. He had 62 tackles for loss and 34.5 sacks in three seasons for the Crimson Tide, winning SEC Defensive Player of the Year twice.
"He's not a flash player. He's a consistent player," Ryans said last week. "He's consistently in the backfield, consistently making plays. And that's what you've seen out here at practice. He's disruptive in the backfield causing havoc. That's what we want him to do."
C.J. Stroud
Maybe Stroud won't have a Justin Herbert-caliber rookie season, but he has a chance for big success in Year 1 thanks to what the Texans have done around him.
Houston has invested heavily upfront, leading the league in offensive-line cash commitment ($82.1 million) and ranking fourth in cap dollars ($55.9 million) in 2023, according to SpoTrac. The Texans should also have a strong running game with Pierce, taking pressure off Stroud and opening up holes in the second level of the defense.
"He's a true football junkie," Ryans said of Stroud last month. "He loves football. Always watching football. Always asking for extra cut-ups from our coaches. I'm just impressed with the mental part of him and how much he loves the game of football. When a guy has that much love for the game of football, he has no chance but to continue to get better and improve."
[Arthur: Texans happy with C.J. Stroud's progress amid QB1 battle with Davis Mills]
Contract to consider: Dalton Schultz
Though he's a little past the young talent phase, the 27-year-old Schultz is important for the development of Stroud as a franchise QB. Schultz hasn't yet played a game for the Texans — he signed a one-year, $6.25 million deal with Houston in free agency — but retaining him, assuming a healthy year, could be a priority for the team.
It's important for young quarterbacks to have a security blanket in the short or immediate passing game. Versatile tight ends are also featured prominently in the West Coast offensive scheme, a variation of which the Texans are expected to run with Slowik. Schultz checks both of those boxes.
With a big 2023, Schultz should be able to command a multi-year extension that averages at least $13 million per season, which would put him in the top eight of highest-paid tight ends. He had 57 receptions for 577 yards and five touchdowns last season with the Cowboys.
Key stats
C.J. Stroud
Ohio State's only two-time Heisman Trophy finalist

Highest-drafted Ohio State QB in the Common Draft Era (since 1967)
Will Anderson
Finished his career at Alabama ranked second in school history on the career sacks (34.5) and tackles for loss (62) lists, trailing only Hall of Fame linebacker Derrick Thomas

Two-time Bronko Nagurski Trophy winner (2021-22), becoming only the second player to win it twice (Pat Fitzgerald)
Dameon Pierce
Finished last season with 1,104 scrimmage yards, the third-most in franchise history and the fifth-most among all NFL rookies
Jalen Pitre
Became the only rookie to record 125-plus tackles and five interceptions during his rookie season (since tackles started being tracked in 2000)

Was the only NFL player to post at least 100 total tackles and five interceptions in 2022 and became the first rookie to ever post at least 140 tackles and five interceptions
Inside Info
On C.J. Stroud
"With all due respect to No. 1 overall pick Bryce Young, Stroud is the most accurate passer who was available in the 2023 NFL draft. Forget the tired reputation of Ohio State QBs struggling in the NFL. None of them boasted Stroud's precision — and make no mistake, pure and simple accuracy remains far more important than arm strength, size, athleticism or any other measurable attribute when it comes to projecting success in the NFL.
"Stroud may take a year to adjust to a receiving corps in Houston that, frankly, may not be as gifted as the one he left behind in Columbus, but he's a future NFL superstar." —NFL talent evaluator
On Will Anderson Jr.
"It is difficult to describe Anderson and not venture into hyperbole. The physical traits only begin to tell the story. He possesses the burst to beat tackles off the edge as a speed rusher and chase down backs from behind. For his size, he plays with extraordinary power to not only hold up against the run, but disrupt it.
"And it's the inner drive that makes Anderson so special. We talk about the 'it factor' with quarterbacks all the time, but Anderson offers that as well. He's the obvious favorite to earn Defensive Rookie of the Year honors — and that should be just the beginning." —NFL talent evaluator
Ben Arthur is the AFC South reporter for FOX Sports. He previously worked for The Tennessean/USA TODAY Network, where he was the Titans beat writer for a year and a half. He covered the Seattle Seahawks for SeattlePI.com for three seasons (2018-20) prior to moving to Tennessee. You can follow Ben on Twitter at @benyarthur.
FOLLOW Follow your favorites to personalize your FOX Sports experience
---
Get more from National Football League Follow your favorites to get information about games, news and more
---