HEALTH
Should people be worried about a summer Covid-19 surge?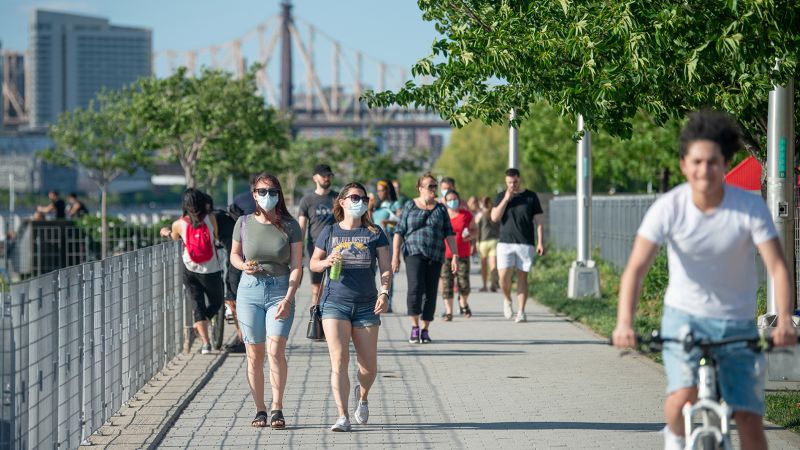 Recent data from the US Centers for Disease Control and Prevention suggests that a summer surge of Covid-19 could be underway, although not as significant as in past summers. By some measures, the number of coronavirus infections is rising, along with test positivity, emergency department visits and — most alarmingly — hospital admissions.
Why might this increase be occurring? How worried should people be? What preventive measures make the most sense? Who should consider changing plans, including summer travel? And how might all of this impact the return to schools, which is already occurring in some parts of the country?
To guide us through these questions and more, I spoke with CNN Medical Analyst Dr. Leana Wen, who is an emergency physician and professor of health policy and management at the George Washington University Milken Institute School of Public Health. She previously served as Baltimore's health commissioner.
CNN: Why might there be an uptick in coronavirus infections at this time? 
Dr. Leana Wen: We are now in the fourth summer of the coronavirus pandemic. Every summer thus far, the United States has seen an increase in Covid-19 cases. Some of this may be due to the cyclical nature of the coronavirus — we've seen an increase in cases, followed by a relatively quieter period, followed by another increase. This may well be the pattern going forward, with two or more of these waves of infections every year.
One of the reasons for a rise in cases during summer, specifically, may be that people get together indoors when the weather is very hot. This could also explain why there are increases in infections around holidays, when people gather in larger groups in enclosed spaces.
It's important to note that this current increase does not appear to be driven by the emergence of a new variant. According to the CDC, all existing variants are offshoots of the Omicron strain, which first emerged in late 2021.
CNN: How worried should people be? 
Wen: It depends on the individual and their medical and personal circumstances.
Those who are generally healthy and have either had Covid-19 or been vaccinated — or both — are unlikely to become severely ill if they were to contract the coronavirus. While Covid-19 infections come with the possibility of long-term symptoms, and some people are still choosing to prioritize avoiding infection, many others have decided that as long as they are well-protected from severe illness, they wish to resume all pre-pandemic activities. People in this category should know that if infections are on the rise, they are more likely to contract the coronavirus, but they probably don't need to change their day-to-day lives because avoiding infection is no longer their goal.
Those who should consider taking additional precautions are people vulnerable to severe outcomes. That includes older individuals and patients with underlying medical conditions such as chronic lung, kidney and heart problems. These people should make sure that they are up-to-date with their boosters.
These folks should also talk with their health care providers and know what to do if they were to contract the coronavirus. Patients should ask whether they are eligible for Paxlovid, the antiviral treatment, and where they can access it. If they aren't, what are the alternatives? People who are at especially high risk of infection and those who prioritize avoiding Covid-19 altogether should also consider wearing a well-fitting, high-quality mask (ideally an N95, KN95, or KF94 mask) while in crowded indoor spaces.
CNN: Could we see a return to masking for everyone?
Wen: No, I don't think so. Top-down requirements like mask mandates should be reserved for true emergencies, which the US is not in now.
That said, I want to emphasize the effectiveness of one-way masking, which means that someone who wants to protect themselves can do so by wearing a high-quality mask, even if others around them are not masked. People at high risk for severe illness, and who otherwise do not wish to contract Covid-19, should mask in order to reduce their risk of contracting the coronavirus and other respiratory illnesses.
CNN: Who should consider changing summer plans, including travel and large get-togethers? 
Wen: Again, I think this should be limited to those at high risk of infection, though even people in this category may be able to modify rather than cancel their plans outright.
For example, high-risk individuals can mask while on flights and then choose to dine alfresco in outdoor settings only. Get-togethers can also be planned primarily outdoors, with high-risk people choosing to avoid indoor components.
People traveling should always have a plan for what happens if they contract the coronavirus. Bring at-home Covid-19 tests along on the trip. Know where to access treatments. And in case anyone needs hospitalization, have a plan for where to go.
READ MORE: Are Covid-19 vaccine cards still relevant? Here's what experts say
CNN: Should those considering the Covid-19 booster get it now or wait until the new one is released in the fall?
Wen: This is a good question. At this point, most people can probably wait until the release of the updated booster, which federal health officials have said to expect around late September or early October. This new booster will target the XBB offshoots of Omicron, which are the now-dominant strains.
One group of people who might consider getting the booster sooner is those in the high-risk category who have not yet had their bivalent booster — the one that was released in the fall of 2022. If they have also not had Covid-19 in the last year or so, their immunity against severe illness has waned a lot. In consultation with their health care providers, they should consider getting the current bivalent booster now, and then, in five months or so, getting the new booster that targets XBB.
CNN: How might the rise in cases impact the start of the school year, which is already underway in some parts of the country?
Wen: I don't think this summer wave should impact the return to schools or the types of precautions taken by most students, teachers and families. While some metrics, including hospitalizations, suggest that cases may be surging, another metric, which is virus levels from wastewater, suggests that the wave may be leveling off. The current increase is also not as severe as what we saw, for example, during the initial Omicron surge.
It's possible that this summer uptick is reflective of the cadence of infections going forward — that we will see multiple periods every year of higher infection rates. A sensible stance is to safeguard those at highest risk, while minimizing disruption to the rest of society, including to schools.
Get inspired by a weekly roundup on living well, made simple. Sign up for CNN's Life, But Better newsletter for information and tools designed to improve your well-being.