SPORTS
Tony Petitti on succeeding as Big Ten commissioner: 'It starts with relationships'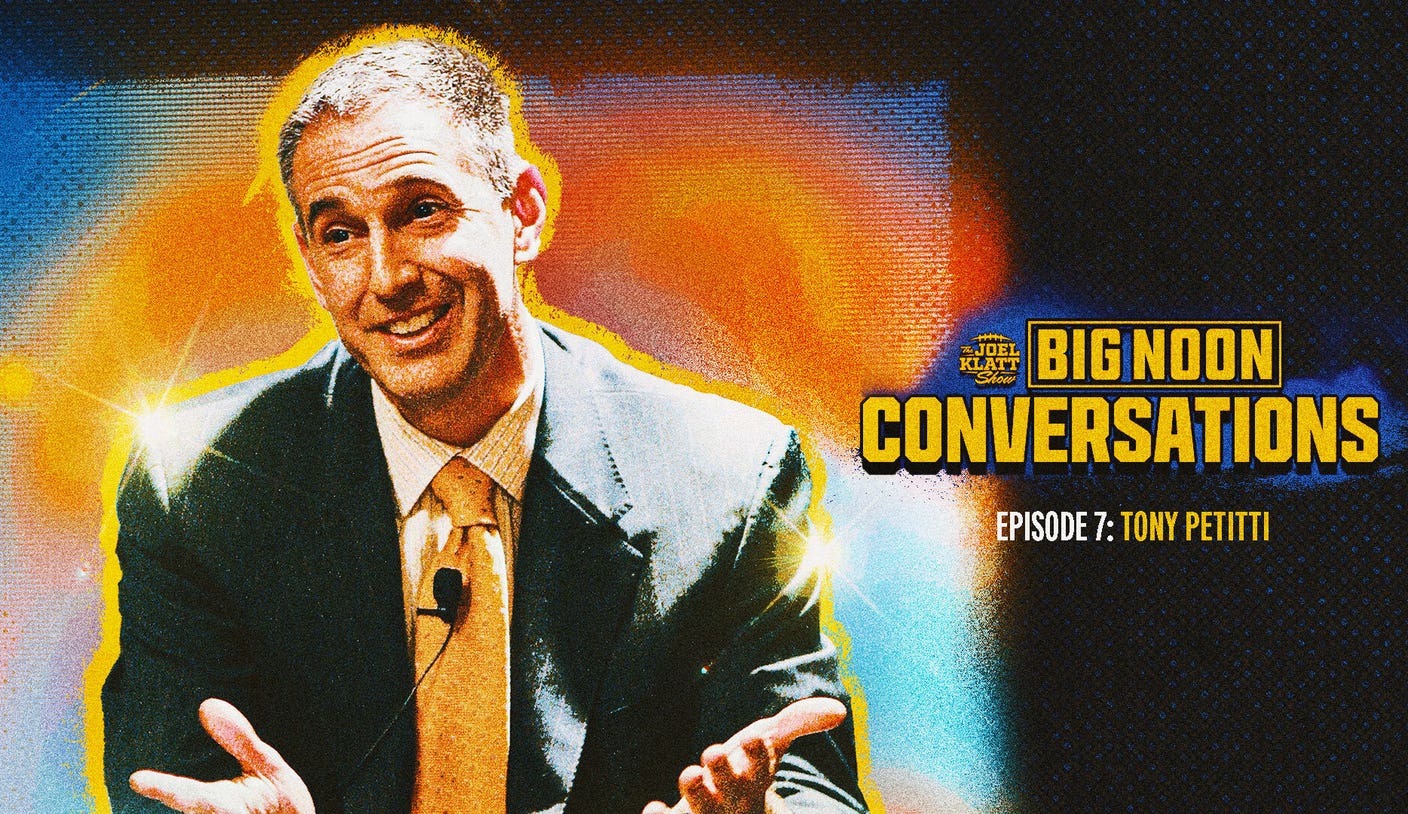 Editor's Note: This summer, FOX Sports college football analyst Joel Klatt is interviewing the biggest names in college football as part of his new podcast series, "The Joel Klatt Show: Big Noon Conversations." The following is an excerpt from Episode 7, featuring Tony Petitti. You can listen to episodes with Deion Sanders here, with Nick Saban here, with Greg Sankey here, with Ryan Day here, with Chip Kelly here, and with Brett Yormark here.
Shortly after being named the seventh commissioner of the Big Ten Conference, Tony Petitti began to map out a plan for what his first 100 days on the job would look like.
As he began to formulate ideas, Petitti kept coming back to the one thing he felt was important if he was going to find success in his new role, which is widely considered to be among the most influential in college athletics.
"It starts with relationships," Petitti said.
With that, the Big Ten commissioner solidified an ambitious plan of action, which he revealed to FOX Sports' Joel Klatt on the latest episode of his podcast, "The Joel Klatt Show: Big Noon Conversations."
"I'm trying to get to every camp, if the coaches will have me, this summer," Petitti said. "Just try to go in August and get out and watch practice and tour facilities. … I'm looking forward to doing that as a way of getting on campus and seeing practices and meeting coaches and the staffs, personally. And also seeing the other coaches who happen to be on campus during the summer as well."
Twelve years ago, making the trek across Big Ten country from school to school likely could have been done as a road trip. Prior to 2011, there were 11 teams spread across the conference footprint, spanning from Minnesota to central Pennsylvania.
Now that will certainly require travel by air, as the conference has 14 teams spanning from New Jersey to Nebraska. And at this time next year, the Big Ten will become the first coast-to-coast conference in the country by welcoming USC and UCLA to the mix.
Petitti didn't play a hand in the Big Ten's recent expansion efforts, as his tenure as commissioner just started on May 15. However, he does have plenty of experience at the forefront of some of the biggest events in sports.
During his time with CBS Sports (1997-2008), Petitti handled the network's coverage of the NCAA Men's Basketball Tournament and was also in charge of Super Bowl programming. When he left CBS Sports, Petitti took a job leading MLB Network ahead of its launch in 2009.
That is what led to Petitti's role as Major League Baseball's chief operating officer in 2015, when Rob Manfred left that post to become commissioner. He pointed to that experience, which lasted through 2020, as why he'll be able to integrate USC and UCLA into the conference.
Tony Petitti on how his background prepared him to be Big Ten Commissioner
Big Ten Commissioner Tony Petitti explains why his background in MLB and as a TV network executive has prepped him for his current role.
"There are 30 owners, 30 team presidents, 30 [general managers], 30 baseball ops and 30 ticketing staffs, and you're working collectively in the central office to make sure all of those things are best for everybody," Petitti said of his experience as COO. "It's the same thing here. So, when you look at that, it's part of that. When you look at all of those challenges together, I see tremendous opportunity."
Within his first two months as Big Ten commissioner, Petitti helped build a schedule that will make sure every school in the conference faces each other at least once every two years and plays a home game against every school in the conference at least once every four years.
In addition, the conference designated 11 protected rivalry games and "two-play" opponents, in which schools will face off in a home-and-home series over the 2024 and 2025 seasons.
Petitti explained that the conference settled on a "Flex Protect Plus" scheduling model in order to create the most enticing in-conference matchups, with an eye on getting as many teams as possible into the College Football Playoff.
"I think that repetition [of facing every team in the conference home-and-away every four years] is important when you integrate USC and UCLA to really connect everybody," Petitti said. "To start seeing teams more frequently, I think it's better, and the quality of those conference games is great.
"What comes with that is making the case down the road with the CFP that our schedule is a gauntlet that our teams have to go through. That should be valuable when you're evaluating any Big Ten team to participate as an at-large in the CFP."
Tony Petitti speaks on the Big Ten narrative for the 2023 season
Big Ten Commissioner Tony Petitti is excited to see how the new schedule format will showcase a competitive season in the Big Ten Conference.
This will be even more important when the CFP expands to 12 teams in 2024, giving conferences more opportunities to get their teams in.
When it comes to conference representation in the CFP, the SEC has held a competitive edge over the Big Ten and every other Power 5 conference. An SEC school has won six of the nine national championships during the CFP era, while Ohio State is the only Big Ten school to be crowned national champs during that time. That came in the first year of the format in 2014.
But Petitti senses the Big Ten has an opportunity to close the gap and potentially overtake the SEC, pointing to the new seven-year, $7 billion media rights deal that will give increased exposure with games on three broadcast networks each Saturday.
"When you look at that footprint and what the Big Ten is going to have on a Saturday, and the amount of fans we're going to reach with national exposure, I think it's a game-changing type of moment," Petitti said. "The Big Ten has powerful brands that are rich in history and competitive things are cyclical. But in general, I think this new format and the way we're going to be programmed across these three really big, powerful networks is going to be a huge advantage for us. It's going to help and only do one thing in raising the profile."
While Petitti is looking to help the Big Ten gain any competitive advantage, he also wants to work with other college commissioners and NCAA president Charlie Baker to improve college sports. As he prepares to build relationships with members of his conference in August, Petitti has spent much of the early part of his tenure doing that with some of his competitors.
"They've been great as a group, spending time individually and together," Petitti said when asked about the importance of collaboration when it comes to dealing with NIL, the transfer portal, and other ongoing issues throughout college athletics. "To address some of the issues, we need to do that collectively. … That doesn't mean you can't take leadership positions. Of course you can. We will do that at the Big Ten. But at the same time, we're going to need to collaborate and work together and figure out where the best ideas are coming from."
Tony Petitti talks about working with other conferences
Big Ten Commissioner Tony Petitti and Joel Klatt discussed working with other conference commissioners to improve college football.
Collaboration is something Petitti has stressed throughout his multiple stops in the sports industry, dating back to his time with ABC Sports, where he helped spearhead the creation of the BCS.
After getting the Big Ten, the Pac-10 (now the Pac-12) and the Rose Bowl on board with the creation of the BCS, Petitti needed to persuade the SEC to join the mix. However, the SEC opted to end the relationship with ABC and took the conference's TV rights to CBS Sports.
"We had a very painful split," Petitti said. "It hurt to lose the SEC to CBS. Within a matter of months, we were back with them in Atlanta saying, 'We actually have the Big Ten, the Pac-10 and the Rose Bowl considering something different. We need your help. What do you think of this?'
"Maybe if it was about personalities and other things, you wouldn't have reached out to them and would've gone somewhere else. But we knew that the SEC was the most important place to start with everybody else."
That taught Petitti something that he holds true to this day.
"The valuable lesson that you learn at a young age is that when you're making deals, it's not personal," Petitti said. "People are charged, and they have responsibilities to do what's best for those organizations. You may lose here, but in a short amount of time, we were right back in front … doing the biggest deal in college football history.
"I like when something like that happens. It's totally rewarding."
---
COLLEGE FOOTBALL trending
---
Get more from College Football Follow your favorites to get information about games, news and more
---