HEALTH
The unusual connection between tick bites and red meat allergy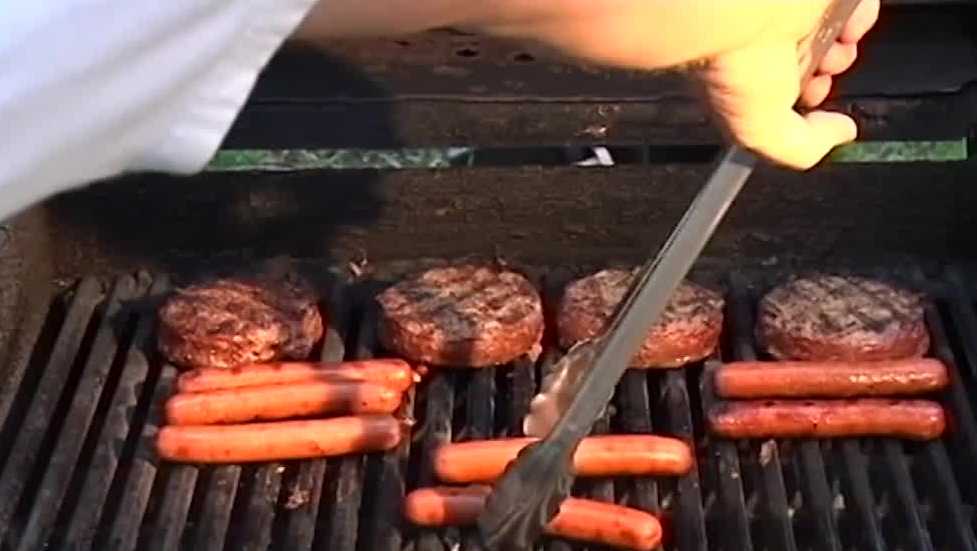 If you have food allergies, you know ingredients matter. Eating the wrong thing can make you very ill and even kill you.And now, we're learning that nearly half a million people in the U.S. are allergic to red meat. And a bug bite may be to blame."I noticed these bites all over my body from shoulder to my knees," James Boley said. He was bitten up after a hike in Virginia more than a year ago. "I was having these pretty debilitating stomach cramps, abdominal pain. I just eventually put two and two together that it was something I was eating," he said. What he was eating was red meat, and apparently, the saliva from a tick bite caused him to be allergic."We never thought it existed in such high numbers. We thought it was a medical oddity until just recently," local allergy expert Dr. Steven Rosenberg said. The Centers for Disease Control and Prevention says bites from lone star ticks are causing an allergic reaction to red meat, and maybe more than 400,000 people in the U.S. are affected. Red meat includes a sugar called alpha-gal, and it does not impact people right away, so people often don't make the link."Say you have a steak at 6 p.m., you may not have a reaction until midnight or 1 a.m.," Rosenberg said. Symptoms include hives, cramping, nausea, itchy skin and diarrhea. Severity varies from person to person."You can have severe life-threatening reactions, which we call anaphylaxis," the doctor said. Like a lot of food allergies, depending on the severity of the symptoms, people simply have to change their diet."No beef, no pork, anything with four legs is a no-go for me," Boley said. There's no real cure, but you can work to protect yourself from ticks. When in wooded areas, wear repellent with DEET, long pants, and long sleeves. Don't hike through brushy areas in shorts, and look for ticks afterward. The allergic reaction can subside over time but don't ignore symptoms."If you can't identify what's causing it, you should see your family doctor and then likely an allergist-immunologist," Rosenberg said. Boley says he turned to acupuncture for relief.Dr. Rosenberg says people with known food allergies should carry an epi-pen. Top headlines:Listen to news and weather headlines with the WESH 2 podcast'Listen to her hiss': Wild video shows gator squeeze through Cocoa Beach man's fenceChances of development increase for Invest 96-L
If you have food allergies, you know ingredients matter. Eating the wrong thing can make you very ill and even kill you.
And now, we're learning that nearly half a million people in the U.S. are allergic to red meat. And a bug bite may be to blame.
"I noticed these bites all over my body from shoulder to my knees," James Boley said.
He was bitten up after a hike in Virginia more than a year ago.
"I was having these pretty debilitating stomach cramps, abdominal pain. I just eventually put two and two together that it was something I was eating," he said.
What he was eating was red meat, and apparently, the saliva from a tick bite caused him to be allergic.
"We never thought it existed in such high numbers. We thought it was a medical oddity until just recently," local allergy expert Dr. Steven Rosenberg said.
The Centers for Disease Control and Prevention says bites from lone star ticks are causing an allergic reaction to red meat, and maybe more than 400,000 people in the U.S. are affected.
Red meat includes a sugar called alpha-gal, and it does not impact people right away, so people often don't make the link.
"Say you have a steak at 6 p.m., you may not have a reaction until midnight or 1 a.m.," Rosenberg said.
Symptoms include hives, cramping, nausea, itchy skin and diarrhea. Severity varies from person to person.
"You can have severe life-threatening reactions, which we call anaphylaxis," the doctor said.
Like a lot of food allergies, depending on the severity of the symptoms, people simply have to change their diet.
"No beef, no pork, anything with four legs is a no-go for me," Boley said.
There's no real cure, but you can work to protect yourself from ticks.
When in wooded areas, wear repellent with DEET, long pants, and long sleeves. Don't hike through brushy areas in shorts, and look for ticks afterward.
The allergic reaction can subside over time but don't ignore symptoms.
"If you can't identify what's causing it, you should see your family doctor and then likely an allergist-immunologist," Rosenberg said.
Boley says he turned to acupuncture for relief.
Dr. Rosenberg says people with known food allergies should carry an epi-pen.
Top headlines: