ENTERTAINMENT
Vijay Varma reacts hilariously to the fake news about Tamannaah Bhatia's '2 crore ring' gifted by Ram Charan's wife Upasana: 'Mera naam kyun nahi aa raha'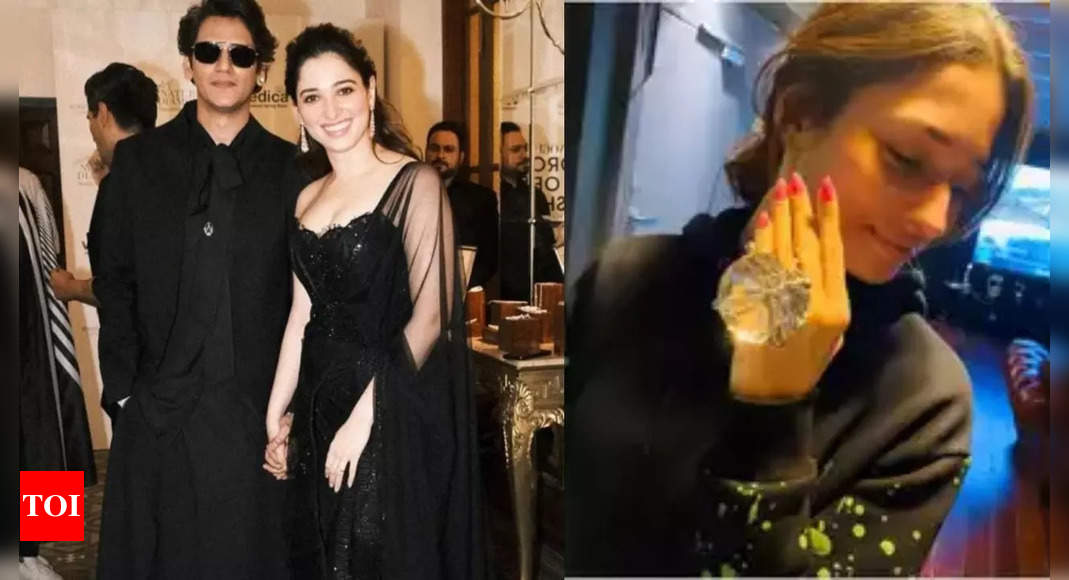 A few days back, the internet was abuzz with stories carrying a picture of Tamannaah Bhatia wearing a ring. Several reports suggested that Tamannaah is wearing the fifth largest ring in the world gifted to her by Ram Charan's wife Upasana. It was also being said that the ring is worth Rs 2 crore. However, Tamannaah had clarified this on her social media and said that it wasn't a ring but a bottle opener.They were just goofying around with it and taking pictures.
Well, now, in an interview, Vijay Varma was asked about this ring and he had a funny response. He said in an interview with Siddharth Kannan that 'I hope you know what it is. Woh ring nahi hai. Dhakkan hai.' Vijay further added that these reports are so silly because how can the world's fifth largest diamond be of Rs 2 crores? He further joked that he messaged Tamannaah and said, "Aise sab reports aa rahe hai and I'm upset ke mere naam kyun nahi hai? (These reports are coming and I'm upset that why isn't my name there in these 'ring' reports). Vijay indeed has a great sense of humour.
Vijay further spoke about the qualities in Tamannaah that he really likes. He said that Tamannaah knows what to tell him at the right time. Sometimes she gives him the reality check, sometimes advice and sometimes she just gives him the kind of motivation that he really needs. What's more important is that she's constantly there for me. Once you have that, then you're not scared, said Vijay.
On work front, after getting a lot of love for his performance in 'Dahaad', Vijay is now seen in 'Kaalkoot' which just released on OTT.
window.TimesApps = window.TimesApps || {}; var TimesApps = window.TimesApps; TimesApps.toiPlusEvents = function(config) { var isConfigAvailable = "toiplus_site_settings" in f && "isFBCampaignActive" in f.toiplus_site_settings && "isGoogleCampaignActive" in f.toiplus_site_settings; var isPrimeUser = window.isPrime; if (isConfigAvailable && !isPrimeUser) { loadGtagEvents(f.toiplus_site_settings.isGoogleCampaignActive); loadFBEvents(f.toiplus_site_settings.isFBCampaignActive); } else { var JarvisUrl="https://jarvis.indiatimes.com/v1/feeds/toi_plus/site_settings/643526e21443833f0c454615?db_env=published"; window.getFromClient(JarvisUrl, function(config){ if (config) { loadGtagEvents(config?.isGoogleCampaignActive); loadFBEvents(config?.isFBCampaignActive); } }) } }; })( window, document, 'script', );