SPORTS
Words shared with Garrett Greene still resonate today | West Virginia University Sports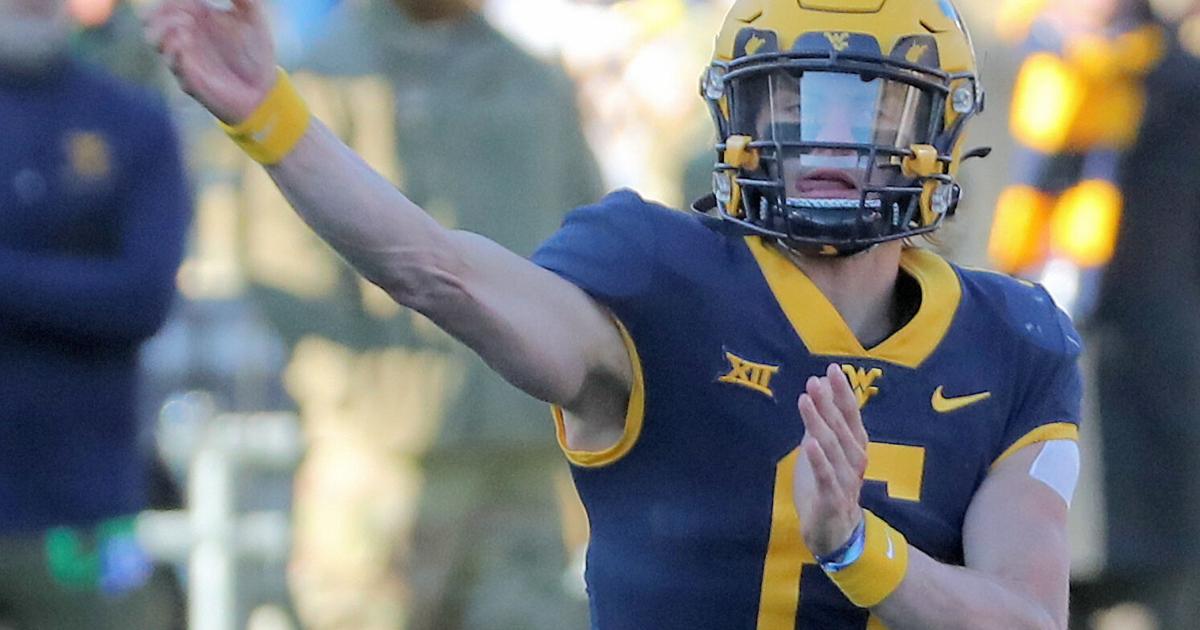 Charlie Greene shared it with his son, Garrett, when he was young, and it has stuck ever since with the man who would be the West Virginia quarterback this year if things go as they should in the preseason camp that opened Wednesday.
It is the stuff that goes on locker room walls, but did not come from within any locker room. It is not of today, these words were spoken in 1910 by Theodore Roosevelt, but they are words which live forever and which Garrett Greene has chosen to live by.
The Man in the Arena
"It is not the critic who counts; nor the one who points out how the strong person stumbled, or where the doer of a deed could have done better.
"The credit belongs to the person who is actually in the arena, whose face is marred by dust and sweat and blood who strives valiantly; who errs and comes short again and again, because there is no effort without error and shortcoming; who does actually strive to do deeds; who knows the great enthusiasms, the great devotion, spends oneself in a worthy cause; who at the best knows in the end the triumph of high achievement; and who at worst, if he or she fails, at least fails while doing greatly.
"Far better it is to dare mighty things, to win glorious triumphs, even though checkered by failure, than to rank with those timid spirits who neither enjoy nor suffer much because they live in the gray twilight that knows neither victory nor defeat."
You read that carefully and you know all you need to know about Garrett Greene.
"I was always around ball my whole life," Greene admitted on the MetroNews podcast "Three Guys Before the Game." "I always wanted the ball in my hand, last inning, last minute of the game. That was always my mentality."
Who is this man who stands to take over the WVU football team this season? What is he? Where does it come from?
Charlie Greene knows. Garrett Greene's father, Charlie, was a major league catcher and has spent almost two decades now in the Milwaukee Brewers' front office as assistant director of player development but you talk with him and you sense what shaped Garrett Greene's personality.
He is a man of action, a man of the locker room, which both he and Garrett Greene consider home. Charlie's driven not by being behind a desk, but by donning a uniform and getting down on the field as a roving catching instructor, good enough that he displays a gift of one of the old gloves (each Gold Glove winner receives three of them) given to Martin Maldonado in 2017 for the work he did with him on his way to the major leagues.
Charlie Greene admits he knows not a lot about football. His love growing up was basketball, his favorite player Larry Bird, and he played baseball, but there is so much of him in his son, Garrett. He had to fight for what he got, just as Garrett has. He had to take the toughest route to success, just as Garrett has.
He was drafted three times before signing, and instead of turning professional when he could, he headed instead to Miami-Dade Junior College to play for his father, Dr. Charles P. Greene, legendary junior college coach of 30 years at the school and the winner of 930 games and a national Juco championship.
Charlie Greene understands his son. Or is it the other way around? Or both?
Charlie Greene wanted to play basketball but wound up playing baseball. Garrett wanted to play baseball but wound up in football.
"I wanted him to follow his dream. I still miss basketball. I think I chose the right path, but that doesn't make it any easier," Charlie Greene said.
He watched his son figure it out on his own.
Garrett Greene bypassed baseball his senior year, but says today if he had, instead of doing that and coming to West Virginia, he'd be playing professional baseball today as a switch-hitting catcher.
"He had offers to go to a lot of schools and play both. He chose to go to West Virginia and knew he wasn't going to play baseball," Charlie Greene said. "He told me he still misses baseball."
"I wanted him to follow his dream. I still miss basketball. I think I chose the right path, but that doesn't make it any easier," Charlie Greene continued.
"Baseball was my first love, for sure," Garrett Greene readily admits. "My dad was super supportive of me no matter what sport, he just wanted to be dad. He told me, 'I coach for a living, I don't want to coach you.'
"Growing up as a kid, especially in the South where college football is king, it was always my dream to be a college quarterback. It was never really my dream to play professional baseball. I thought it was cool, because that's what my dad did, but my childhood dream was to be a college quarterback."
Garrett Greene grew up in baseball locker rooms and that is important to understand what he has become.
"The locker room is a special place. It's not society at all," Charlie Greene said. "There's a great bond in there and he felt that and has stayed connected with a lot of the Milwaukee players. He learned by just being in the environment."
"I think he's a product of the environment. There's all different guys from all different backgrounds and all different countries (in the locker room). It's 25 guys who become as one. You can feel the good chemistry and you can feel when it's off. You show up every day, your teammates count on you," Charlie Greene said.
"That's all part of being a team and are the important lessons you learn. You learn that in younger years … you learn to be unselfish, you have to give, serve. He learned that through the environment. It was nothing we did specifically. He was just one of the guys and hung out in the locker room.
If there was one point he wanted to get across to his son — and did — it was this:
"I tell him the most important thing is you want people to say, 'He was a great teammate.' Be a good teammate and the play will take care of itself. When you have the respect of your peers in the locker room, there's nothing like it."
And from the moment Greene came on campus he has been just that, a good teammate and a leader. His teammates are drawn to him and he to them, his energy infectious and his willingness to sacrifice endless.
He's been used at wide receiver, at running back, so surely he'd agree to play some safety, too, if asked. He's waited for his turn to come, which again is part of what Charlie Greene and his wife, Blake, instilled in him.
"I never thought about leaving the program. This state means so much to me and my family. I was a little boy from Florida and they welcomed me with open arms," Garrett Greene said. "My dad always wanted me to stick it out, saying good things come to those who wait."
"Loyalty matters," Charlie Greene said. "I've been with the Brewers 19 years. My Dad was at Miami-Dade for 30 years. Dad might have had a chance to go, but he was loyalty. Garrett comes with loyalty naturally. It matters to him.
"He will stay and fight; that's what fighters do. Fighters don't run. He chose to stick it out. He's graduating in December and will get his MBA in December, 2024."
Charlie Greene admits Morgantown "is hard to get to" but he also agrees once you're there it's hard to get away from.
"He's made great connections up there. West Virginia and Morgantown have been great for him.
"It's hard going 13 hours from home, but he loves it there. Through COVID and everything else, he loves his time there and wouldn't trade it for anything else. He tells everyone he was born and raised in Florida, but he grew up in West Virginia."